Top Stories
Welcome Your Client to Their New Home With a $125 Voucher
Keep More of Your Money in 2023! Free Zoom Seminar-March 30th, 9:30am-Noon
REALTOR & Government Day April 26, 2023| Madison Concourse Hotel and Governor's Club
RANW Timber Rattlers Fundraiser: June 22nd -Get Your Tickets Today!
Upcoming RANW Summer Events You Won't Want To Miss!
Important: Transition your website data feed NOW to avoid potential disruption
2023 Annual Lockbox Audit Due March 31st
Scroll down for additional stories-
REALTOR NEWS
New Membership Forms
Effective January 1st, the Agent Change form has been updated along with the transfer fee. Please make sure to always head to our website for that form, along with the applications for memberhip and lockbox keys.
New REALTOR® Stories to Make You Smile

NAR has released the latest round of That's Who We R videos, NAR's national advertising campaign, helping consumers understand that REALTORS® are real estate experts in their local communities that abide by a Code of Ethics. A fully integrated media mix of TV, radio, streaming video, digital audio, social, and search delivers this work to our target audiences nationally. For a deeper dive on the 2023 campaign, read the press release here.

This year, the That's Who We R campaign works as hard you do to show the many ways REALTORS® are here to make the dream of property ownership a reality for your clients. "REALTORS® Are Here For It" demonstrates how REALTORS® bring value, partnership, and professionalism to every aspect of the property ownership journey, and often beyond that.

Members can leverage NAR's ad campaign by tapping into its advertising, social media, and Content Partnership resources and sharing out who you are and the value you bring to consumers. These brand-boosting assets will require member sign-in credentials. Examples of usage and brand guidelines can also be found.
Welcome Your Client to Their New Home With a $125 Voucher

FOCUS ON ENERGY® partners with utilities across Wisconsin to provide resources and rebates for energy-efficient home products, equipment, and improvement projects. By becoming an Ambassador, you will introduce Focus on Energy to your buyers offering them improved home comfort, efficiency, and peace of mind as they settle into their new home. To-date, our real estate Ambassadors have put more than $1,226,000 in heating and cooling vouchers into the hands of their clients and have set more than 9,800 Wisconsin homebuyers on the path to energy efficiency and cost savings.

Enrolling is a simple two-step process. Once you complete the enrollment form and attend a workshop, you can start offering your clients access to new energy efficiency expertise and exclusive perks, including a welcome kit. The welcome kit includes a reimbursement $125 voucher which can be used for a heating and cooling tune-up or for the purchase of a program-qualified smart thermostat. The kit is co-branded with your business information and sent to your clients on your behalf (at no cost to you), providing an extra touch of customer service and value.

Help your clients manage rising energy costs!

Education
Keep More of Your Money in 2023! Free Zoom Seminar-March 30th, 9:30am-Noon
Learn how to pay less tax and keep more of your money in 2023 & years to come! Join this FREE Zoom seminar, on 3/30/23 from 9:30-noon, to learn:


After this seminar, you'll have what you need to bring to your tax accountant, so you can keep more of your income this year and beyond! RSVP TODAY!
REALTORS® Property Resource Webinar
March 1 | 11:00 a.m.
Get a tour of the RPR's one-stop-shop that will help you save time, improve productivity and navigate the market.
Sign Up Here!
Learn in 10 Minutes - New Microcourses are Here!

With an ever-expanding catalog of over 100 microcourses, the
Center for REALTOR® Development (CRD) is committed to delivering on-demand, bite-sized learning that fits into your busy schedule. Each CRD Microcourse is typically around 10 minutes long and aims to help you to learn new skills and stay current with the latest industry trends so you can better connect and communicate with your clients.

CRD Microcourses are crafted by top real estate instructors and are designed to be quick bursts of learning with a big impact.

Learn more by clicking here!
Upcoming WRA Education Opportunities

Pricing Strategy Advisor
Virtual: April 13 & 14 / 9am-12pm

Gain the necessary expertise to be your sellers' trusted advisor when it comes to pricing their home to sell. Determining property values depends more than ever on professional expertise. Designed for real estate professionals at all experience levels and those working with either buyers or sellers, the PSA certification provides a framework for understanding CMAs, identifying appropriate comparables and making adjustments, pricing and valuation terminology, working with appraisers and much more.
Learn more by clicking HERE

Converting Leads into Closings - CRS Course
Live in Madison or virtual: March 1 / 8:30am-4:30pm
**PRICE INCREASE ON 2/14/23**

The Certified Residential Specialist (CRS) is the professional designation offered by the Residential Real Estate Council. The highest designation awarded to sales associates in the residential sales field, the CRS designation recognizes professional accomplishments in both experience and education.
Learn more by clicking HERE
Events
Upcoming RANW Summer Events You Won't Want To Miss!
Timber Rattlers / Make-A-Wish Fundraiser Thursday, June 22nd
Green Bay Golf Outing Monday, July 17th
Fox Valley Golf Outing Tuesday, August 1st
Fond du Lac Golf Outing TBD Thursday, August 24th
Oshkosh Golf Outing Tentative Thursday, Sept 14th

REALTOR & Government Day April 26, 2023| Monona Terrace and Convention Center | Madison

It's time to lobby! The WRA's annual lobbying event, REALTOR® & Government Day, is your chance to shape the laws that affect you and your real estate business in Wisconsin.

The event kicks off with an issue briefing where you'll learn about pending laws and how they impact real estate. Next, you'll move to the Capitol for lawmaker visits. You'll have the unique opportunity to meet in person with your state lawmakers to lobby for or against these laws.

This is your chance to advocate for issues that impact the real estate industry, homeownership and property rights in Wisconsin. Your voice will be heard, and a better Wisconsin real estate market will follow.

There is also a new incentive! For the first time ever, your attendance is eligible for CE credit. If you complete and pass a brief exam, you'll earn 1 CE credit for the 2023-24 WI biennium.

2022 tentative event schedule:
12:30 - 1:00 p.m. Registration
1:00 - 1:15 p.m. Welcome
1:15 - 1:45 p.m. Guest Speaker (Gov. Evers invited)
1:45 - 2:45 p.m. WRA advocacy issue briefing
2:45 - 3:00 p.m. Move to the Capitol
3:15 - 4:30 p.m. Capitol visits
4:30 - 5:30 p.m. Reception (Monona Terrace)

Conference location:
The Monona Terrace and Convention Center
One John Nolen Drive. Madison, WI 53703

Women's Council of Realtors "An Old Fashioned Mixer" ~ March 14th
Join the Women's Council of Realtors for their "An Old Fashioned Mixer" event on Tuesday, March 14th

Date: March 14th, 2023
Time: 2-4 pm
Cost: Free to members, $10 for non-members
Location: Sure-Dry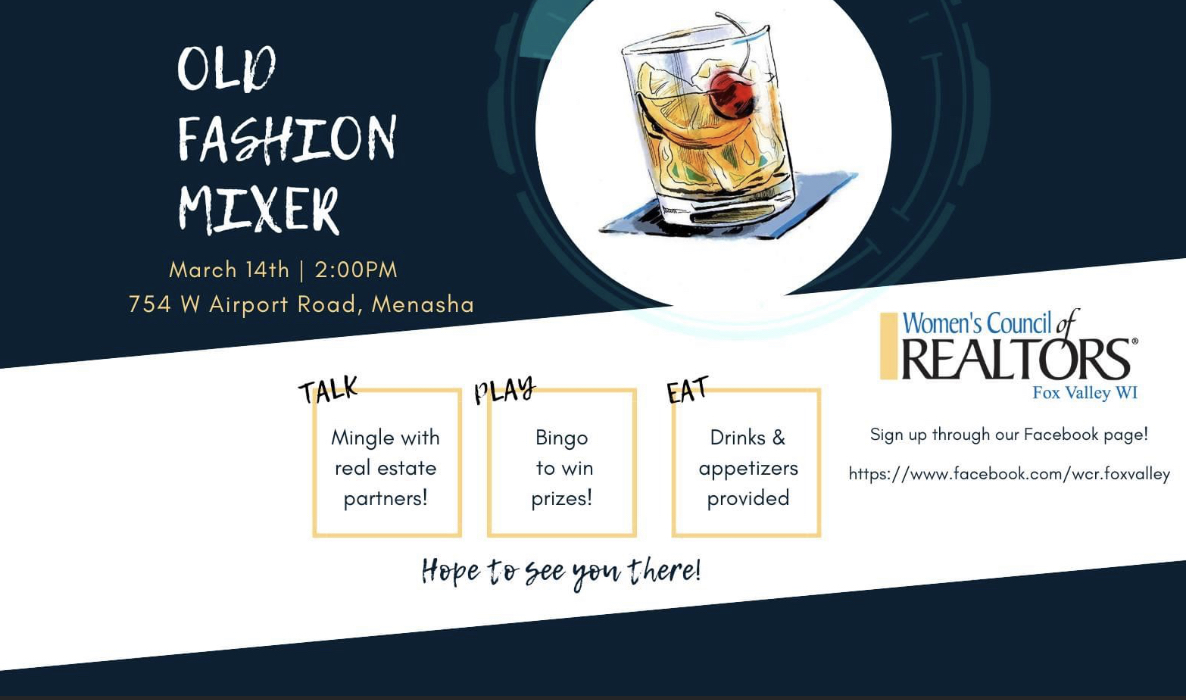 RANW Timber Rattlers Fundraiser: June 22nd - Get Your Tickets Today!

Join us on Thursday, June 22nd for our annual RANW Timber Rattlers fundraiser benefiting Make-A-Wish Wisconsin. Tickets WILL sell out, so get yours today! CLICK HERE to purchase tickets!

Date: Thursday, June 22nd
Location: Fox Cities Stadium
Dinner & Raffles: 4:00 pm (under the tent!)
Game: 6:40 pm
Dinner: Includes (2) Drink Tickets, Raffles and Pre-Game fun for the entire family!
Proceeds: 100% of net proceeds will benefit Make-A-Wish Wisconsin
Price: $40/ adults & $20/ kids 12 and under.

Want more information about sponsoring or donating a prize? Contact Jessica Uecker at juecker@ranw.org or call 920-739-9108.
2023 Realtor Broker Summit April 17-18 I Kansas City, Missouri

Registration is now open for the 2023 Realtor® Broker Summit, April 17-18, 2023 in Kansas City, Missouri.

Regular Early Bird Price from February 1-28, 2023): $349.00
Regular Price (March 1 - April 17, 2023, or when sold out): $449.00
Plan to attend NAR's most exciting and exclusive broker event! The REALTOR® Broker Summit offers incredible learning, exclusive insights, and in-person networking. Connect with industry experts, discover technologies, and obtain strategies to take home to your clients, agents, and business.
MLS
Important: Transition your website data feed NOW to avoid potential disruption

RETS access for RANW MLS data feeds will only be available until May 31, 2023 with the exception of WIREX feeds.

If you subscribe to a RETS data feed via RANW MLS contact your website Vendor NOW to ensure you are transitioned to API in a timely fashion and avoid possible disruption of your data feeds.

Members are making progress transferring their IDX and VOW data feeds to MLS Grid, but don't forget about your other feeds! Back-office Replication and Firm-Specific feeds also need to be transitioned from RETS to API.

Members must begin the transition process for Firm Specific feeds. To do this, offices need to set up an account on MLS Grid and invite your vendor to use your company listings. Here is a how-to based on MLS Grid's instructions. MLS Grid for Firm Specific Feeds

RANW MLS has aligned with a company called MLS GRID for Data Feed Management. MLS GRID is currently being used by many of the Vendors that our members are using today. Vendors may already be familiar with them and this new process. If your Vendor is not already part of the GRID, they can visit mlsgrid.com/resources for How-To information.

REMINDER: When you have transitioned to API, you will want to cancel your RETS feed so you are no longer charged for it.
When you and your vendor have successfully switched your website or software to the API feed from MLS Grid, don't forget to cancel your RETS feed! To avoid any interruption in data service, no data feed will be cancelled without written notice from our member. The easiest way to cancel a data feed is to send an email to support@ranw.org with the details.

Data Agreements - New RANW MLS Data Agreements for Data Feeds via RETS have been updated to comply with the new NAR MLS Policies and Rules. The new Data Agreements for API will also comply with the newest NAR MLS policies and can be found on mlsgrid.com.

Data Feed Fee Schedule - A restructured fee schedule has begun for all MLS Data Services. The fee schedule for RETS and API are the same. New fees are in effect as of February 1, 2023. RANW MLS will not be charging MLS Participants a set-up fee for existing RETS feeds that transition to API with the same information (vendor, URL, feed type, data use).

More information or questions:

MLSGRID.com/resources
Email: datafeed@ranw.org
Call: RANW MLS (920) 739-9108
Thank you for your participation and support of RANW MLS ~ we look forward to serving you!
Prospecting Tactics from RPR
Check out other hot trends from RPR HERE.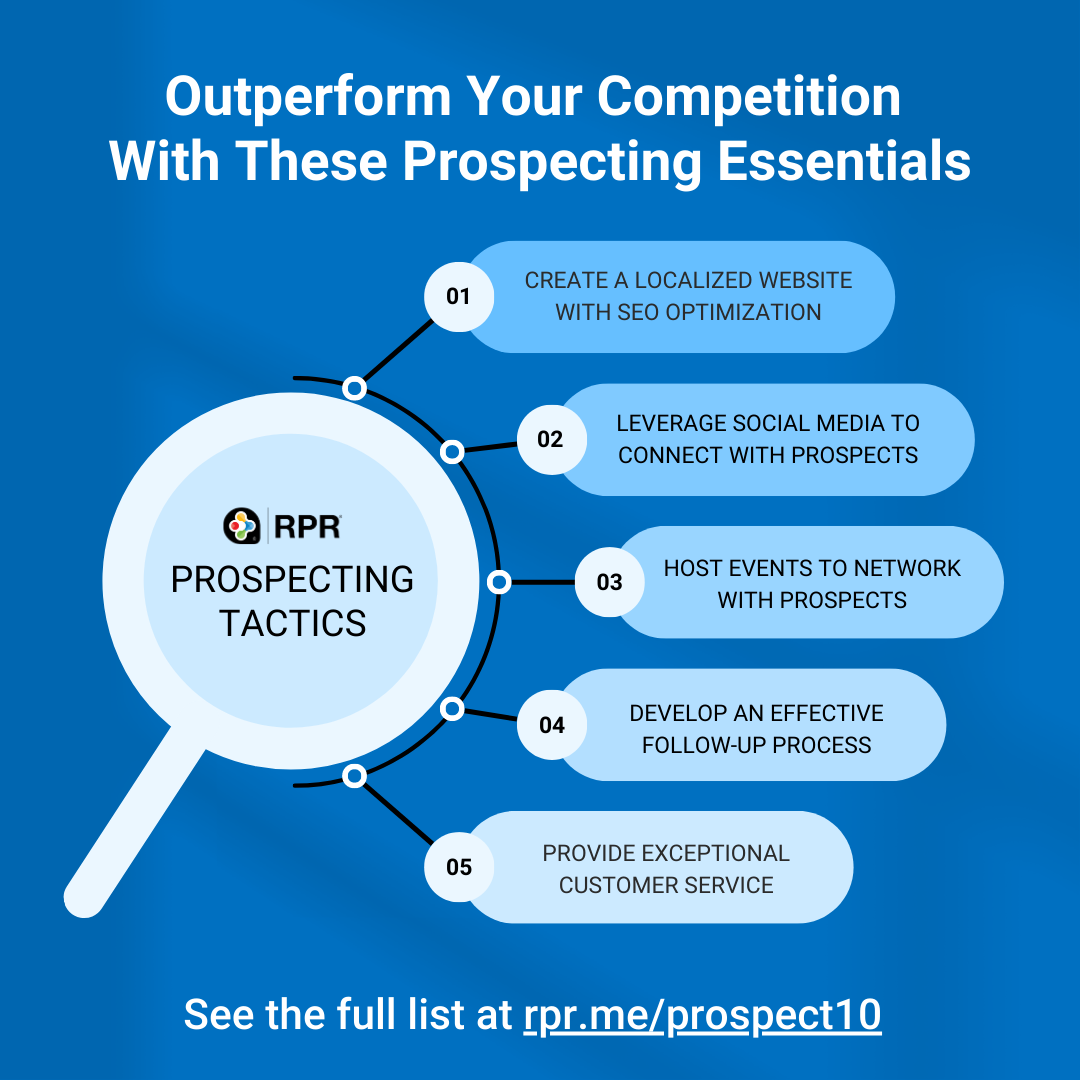 CRS Data's MLS Suite - Benefit Your Business

This month's feature on demand webinar from CRS Data's MLS Suite, integrated into Paragon, is all about how to generate a report to compare Residential properties. Click HERE for the video!

How Can CRS Data's Comparables Benefit Your Business? Comparables are an indispensable tool for both listing and buyer's agents. With CRS Data, agents can see both MLS and off-market transactions, giving them the full picture of the market and allowing them to provide a higher level of service to their clients. Because CRS Data has access to all county tax assessors' public records-not just MLS records-this tool brings unique and robust value that cannot be realized using MLS records alone.

Also check out how to create mailing labels: Video HERE!

Interested in learning more about CRS Data's MLS Suite? Click HERE! CRS Data also has a world of on demand training right at your fingertips.
Within Paragon, click on the Tax tab (top of page)>Tax Integrations>CRS Data: Tax Search. This will bring you to the CRS Data MLS Suite page.
Click on the Help tab on the upper right>MLS Tax Suite Help Center in the middle of the page. Here, you will find videos & webinars, comparables, prospecting, maps, tips and troubleshooting, CRS Data updates and more!
RANW MLS Stats at a Glance
Want to customize your own statistical reports?
Click HERE for the How-To! OR try one of the Paragon statistical tools under the Resources tab in Paragon!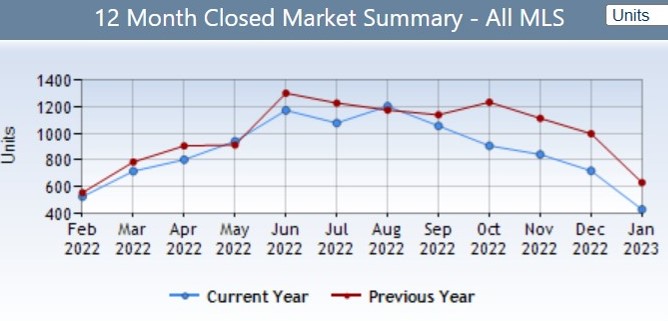 RANW MLS Webinars
Click on the training calendar/link for each vendor to register for free daily or on demand webinars!

TrustFunds Electronic Earnest Money Webinars

Save time and the hassle of dealing with paper checks and wires! See how easy electronic earnest money from TrustFunds is to use. Learn how to submit a request, add your photo, view transaction history and access valuable reporting tools. Register HERE today for the dates below!

Wednesday, March 15 at 2:00 pm CST
Thursday, March 16 at 10:00 am CST
What's new with TrustFunds?

Click

HERE

for the TrustFunds newsletter!

Starting from the beginning? More information on our website HERE.
Lockbox Program
New Supra Training Video - eKEY Settings

This month we feature: Supra eKEY® - eKEY App Settings, a new training video from Supra! Click HERE to watch the video, detailing the options in your eKEY settings menu such as automatic update and require pin code only once per day. For other Supra Training, click HERE for more video tutorials.
2023 Annual Lockbox Audit Due March 31st

Companies participating in the Lockbox and Key Program received a first notice on February 1, 2023 and a 1st reminder on February 15, 2023 from khubers@ranw.org.

Lockbox inventory was sent to each participating company. Please check your records for any missing inventory and get the appropriate inventory form back to lockboxes@ranw.org. This form must be signed by the designated MLS participant for the company and returned to RANW MLS by March 31st, 2023.

If you have any questions regarding the annual lockbox audit, please call RANW MLS 920.739.9108. Thank you for your participation in the RANW MLS Lockbox and Key Program!

SupraWEB Resources are available HERE to help keep tabs on your lockboxes as well as run reports, assign lockboxes to listings and assign one-day codes. This is also an opportunity to get any extra lockboxes your office may not be using back to RANW MLS. Please let us know if you have a surplus of lockboxes to return and we can coordinate with your office.

2023 Month by Month Supra Training
Check out this cool interactive webinar calendar from Supra! Looking for a LIVE webinar? Look no further - 2023 Supra training schedule HERE!
Welcome to the Lockbox Program
#1574
#1575
#1577


Michael B Realty
Norris-Thomas Appraisal Service
Home Vibes Realty


REALTOR® MLS
REALTOR® MLS
REALTOR® MLS


Green Bay
Green Bay
Green Bay


Membership
RANW Membership Changes
To view all the current membership changes for RANW click here.
Congratulations on Your Retirement!
RANW congratulates the following REALTOR® member on their recent retirement:
~ Dennis Dolan, The Cornerstone Realty, De Pere