Top Stories
Join Us For the Installation Luncheon on Tuesday, February 26th
REALTOR Children Scholarship Application Deadline March 8th
ABR Core Course ~ Tue-Wed, February 26-27th
Appraisal Conference- March 11-12, Kalahari Resort & Convention Center, Wisconsin Dells
Join Us March 7th in GB for "Name That Tune" Benefiting New Community Shelter!
InSight Development Conference - March 19th
2019 Annual Lockbox Audit Due March 31st
2019 Committee Sign Up - Get Involved!
Important Update Regarding Non-Deductibility of a Portion of Your 2019 Dues
Scroll down for additional stories-
REALTOR NEWS
Join Us For the Installation Luncheon on Tuesday, February 26th
The RANW Membership Luncheon and Installation will be held on Tuesday, February 26th at the Timber Rattlers Fox Cities Stadium.
Program highlights include the Installation of the 2019 President and Board of Directors; recognition of the 2018 Platinum Affiliate sponsors; and the introduction of the RANW MLS Board and RANW Committee Chairs for 2019.

Date:
Time:
Location:
Speaker:
Cost:
Sponsors:
Details:
Tuesday, February 26th
Registration: 11 am, Program: 11:30 am - 1:30 pm
Timber Rattlers Fox Cities Stadium
Harry Sydney, Alumnus of the Green Bay Packers
$16 per member
First American Evans Title and Associated Bank
Click here for details
Click here to register online
Scam Alert: New Email Phishing Attempt Reported
WARNING: If you receive an email with the Subject Line: "⚠️Signature requested by National Association of REALTORS®", it is NOT from NAR. The email spoofs a Citrix ShareFile site and asks you to sign an "important file" from NAR.
If you receive this fraudulent email, please alert NAR Member Support at Contact NAR@realtors.org and then delete this email. www.nar.realtor/data-privacy-security
Treasury, IRS Give Big Win to Real Estate Professionals in Qualified Business Income Rule
WASHINGTON (January 22, 2019) – Late last week, the Treasury Department and the Internal Revenue Service issued final regulations regarding the new 20 percent deduction on qualified business income. As Americans begin preparations for the 2018 tax filing season, real estate professionals have been uncertain about the true impact of the 2017 Tax Cuts and Jobs Act on their respective businesses.
Friday's ruling from Treasury and the IRS, however, signaled a significant victory for the real estate industry and for many of the National Association of Realtors®' 1.3 million members. "Friday's ruling is a result of several months of advocacy and collaboration between NAR, our members and the administration," said NAR President John Smaby, a second-generation Realtor® from Edina, Minnesota and broker at Edina Realty. "These final guidelines will allow real estate professionals to benefit from the Section 199A 20 percent pass-through deduction, a move that will empower Realtors® to expand their operations and provide improved services to consumers and potential home buyers across the country. The National Association of Realtors® is grateful for the openness and transparency encouraged by Treasury and the IRS, and we thank them for their hard work to ensure the real estate community was heard throughout this rule-making process."
A central component of the new tax law is a reduction of the corporate tax rate – from 35 to 21 percent. However, since nine out of ten American businesses are structured as pass-through entities rather than corporations, the Section 199A provision provides critical tax deductions for small businesses and self-employed independent contractors, which is how many real estate professionals are classified. Within the 247-page rule issued last Friday, three major provisions for real estate professionals stood out as critical victories for members of the National Association of Realtors®.
Most importantly, the regulation clarifies that all real estate agents and brokers who are not employees but operate as sole proprietors or owners of partnerships, S corporations or limited liability companies are eligible for the new deduction, which can be as high as 20 percent. This includes those whose income exceeds the threshold of $157,500 for single filers and $315,000 for those filing a joint return. Second, the rule simplifies the process that owners of rental real estate property must follow to claim the new deduction. As written in the Tax Cuts and Jobs Act, only income that is from a "trade or business" qualifies for the 20 percent write-off. However, because this distinction was not clearly defined by Congress when crafting the law, various court rulings and prior IRS guidance have caused confusion among tax professionals in determining which rental properties were merely investments and which could accurately be considered a business enterprise.
NAR strongly urged Treasury and the IRS to simplify the rules in order to give millions of rental real estate owners certainty surrounding their ability to qualify for this new deduction. Friday's final regulations included a bright-line safe harbor test requiring at least 250 hours per year spent on maintaining and repairing property, collecting rent, paying expenses and conducting other typical landlord activities.
Finally, within the proposed regulation released last August, those who had exchanged one parcel of real estate under Section 1031 for another parcel were unfairly denied deduction eligibility. However, NAR and multiple additional trade groups concerned with commercial real estate were vocal in highlighting this shortcoming. In a positive resolution to the situation, Treasury and the IRS recognized the initial ruling was misguided and corrected the policy in Friday's final guidance.
"NAR maintained consistent and coordinated communication with Treasury and the IRS throughout this rule-making process. The finalized ruling, which represents a tremendous win for real estate professionals across the country, is a direct result of that engagement," said Shannon McGahn, NAR Senior Vice President of Government Affairs. "We are thrilled to see our members emerge from this process so favorably, and we thank Treasury and the IRS for all of their hard work in ensuring consistency and clarity within these policies as America's 1.3 million Realtors® begin filing their 2018 tax returns in the coming weeks." The National Association of Realtors® is America's largest trade association, representing more than 1.3 million members involved in all aspects of the residential and commercial real estate industries.

Joseph M. Ventrone Vice President,
Federal Policy and Industry Relations | Advocacy Group
NATIONAL ASSOCIATION OF REALTORS®
Education
ABR Core Course ~ Tue-Wed, February 26-27th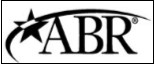 The ABR two-day webcast at RANW will provide you with the tools and know-how to represent buyer-clients in real estate transactions and provide them the same level of service that sellers typically enjoy.
This course also offers ideas and methods for building a buyer-representation business, forming buyer relationships, winning repeat business and referrals, and more.
Click here to register.
REALTOR Children Scholarship Application Deadline March 8th
A membership benefit of the Wisconsin REALTORS® Association is the REALTOR® children's college scholarship. In 2019, the Wisconsin REALTORS® Foundation board of directors of the association will award 20 scholarships in the amount of $750 each to sons or daughters of association members.
Please read and complete the information and return the application by March 8, 2019, to the Wisconsin REALTORS® Foundation Inc., 4801 Forest Run Road, Suite 201, Madison, WI 53704.
Appraisal Conference- March 11-12, Kalahari Resort & Convention Center, Wisconsin Dells
Join Wisconsin-wide fellow appraisers to complete CE and pick up new skills for the industry. You'll enjoy networking opportunities while listening and learning from the appraisal industry's top experts. And relax! … you won't face the pressure of quizzes and exams at the Appraisal Conference! For more information and to register, click here.
2019 REALTOR® Broker Summit ~ April 2-3rd

Registration is now open for the 2019 REALTOR® Broker Summit, April 2-3, in Austin, TX.
~ Register on/before March 11th to receive the early bird rate of $249.
~ After March 11, 2019 registration price will increase to $299.
The REALTOR® Broker Summit offers an incredible two days of learning, exclusive insights, and networking opportunities. Stay on the cutting edge by discovering new technologies and business strategies from industry leaders. View information from past REALTOR® Broker Summits.
CRS Course: Power Up on Smart Home Technologies ~ Tue, April 9th
REALTORS® are invited to attend the CRS One-day Course: Power Up on Smart Home Technologies on Tuesday, April 9th from 8:30 a.m. - 5:00 p.m.
What qualifies as a "smart home," and do you have the knowledge and skills to advise your clients on the proper valuation of smart home technologies? What are the common security and legal considerations with buying and selling smart homes?
In this CRS course, you'll find out the answers to those questions and dive deep into the topics of smart home technology in relation to real estate marketing strategy, security considerations and more.
If you have the CRS designation or are a member of RRC, please contact WRA before registering for the class, as there is a $20 discount.
Click here to register
Events
Join Us March 7th in GB for "Name That Tune" Benefiting New Community Shelter!
"Name that Tune" is back Thursday March 7th at the Green Bay Distillery. Space is limited, you must pre-register to participate!

Date:
Register:
Location:
Cost:
Includes:
Benefits:
Thursday, March 7th
Email Jill Dickson-Kesler (GB Community Service Chair) jdickson@coldwellhomes.com
Green Bay Distillery
$20/person
Cost includes registration fee, appetizers and 2 beer/soda tickets
100% of registration fees go to New Community Shelter
Mark your Calendars ~ Upcoming Popular RANW Events!
Thursday, March 7th
Thursday, June 20th
Wednesday, July 17th
Tuesday, August 6th
Thursday, August 22nd
Thursday, September 12th*
Thursday, December 5th
Thursday, December 12th

Name That Tune
Timber Rattler Make-A-Wish Fundraiser
Green Bay Golf Outing
Fox Valley Golf Outing
Fond du Lac Golf Outing
Oshkosh Golf Outing (*tentative date)
Fond du Lac Holiday Party
Green Bay Holiday Party

InSight Development Conference - March 19th
This year, RANW is one of the Partner Sponsors of the 10th Annual InDevelopment Conference at the Red Lion Hotel Paper Valley in Appleton.
As part of that sponsorship, all RANW members are eligible for a $15 off code if you register by March 1st. When you register through the link below, use code: SPONSOR15. Please note that this code is case sensitive and be sure to click the blue "Apply Code" button before submitting the registration.
Click here for more information on speakers and programming.

Registration
Tickets: $35 until March 1st; $45 after March 1st
2019 REALTOR Broker Summit ~ April 2-3rd
Registration is now open for the 2019 REALTOR® Broker Summit, April 2-3, in Austin, TX.
~ Register on/before March 11th to receive the early bird rate of $249.
~ After March 11, 2019 registration price will increase to $299.
The REALTOR® Broker Summit offers an incredible two days of learning, exclusive insights, and networking opportunities. Stay on the cutting edge by discovering new technologies and business strategies from industry leaders. View information from past REALTOR® Broker Summits.
Government Affairs
Thank You to all 2018 Direct Giver and RPAC Contributors!
In 2018, not only were we able to exceed our fundraising goal,, but we had the highest participation rates for Extra-Large boards and highest per capita!!! Slowly, but surely we are moving closer to having each member financially support the association's advocacy efforts and help elect and reelect candidates who support the real estate industry and private property rights.
The RANW Government Affairs Committee and the RANW Board of Directors, sincerely thank every single person who gave what they could either to RPAC or to the Direct Giver Program. Although we are not able to list all members who so generously support the RPAC program, every single dollar counts! A special thank you is also extended to the 2018 Government Affairs Committee Chair: Sue Hietpas and the entire Government Affairs Committee, as well as so many brokers who have helped highlight the importance of RPAC to their agents.


In the March newsletter we will be listing all the Direct Givers for 2018, as well as the offices who won the RPAC participation awards.

If you have any questions regarding RPAC or Direct Giver, or if you would like to become involved in the Association, please contact Jennifer Sunstrom, RANW Government Affairs Director at jsunstrom@ranw.org or (920)739-9108.
REALTOR Government Day April 24, 2019 Madison Concourse Hotel and Governor's Club
It's time to lobby! The WRA's annual lobbying event, REALTOR® & Government Day, is your chance to shape the laws that affect you and your real estate business in Wisconsin.

The event kicks off with an issue briefing where you'll learn about pending laws and how they impact real estate. Next, you'll move to the Capitol for lawmaker visits. You'll have the unique opportunity to meet in person with your state lawmakers to lobby for or against these laws.

This is your chance to advocate for issues that impact the real estate industry, homeownership and property rights in Wisconsin. Your voice will be heard, and a better Wisconsin real estate market will follow. For the event Flyer or to register, click here.
MLS
RANW Data Sheets in ZipForms
Now Available in ZipForms: RANW MLS's Residential and Condominium data sheets!

MLS Primary Photo Required
The primary photo in MLS "the exterior of the main structure of the property" is now required at the time that you are saving the listing in an Unconfirmed Listing Visibility status, except for vacant land. This means for listings being entered by the listing company and agents, in LIM.
For listing company and agents submitting their listings to MLS for entry, they will receive an email notification of listing entered, and the requirement for at least the main photo to be attached to the listing.
The primary photo will also be required upon saving a Comp-Only listing. The primary photo will not be required for saving a Partial Listing or a Subject Property Listing for any property class.
This new process should ensure all listings now are seen with the main photo.
Please contact MLS if you have questions or need assistance.
HomeBot Webinars
Homebot is a sellers marketing tool designed to provide homeowners with data to better understand their home and how they can build wealth. The monthly report has a 68% open rate and will generate more activity between you and homeowners.
If you don't provide your prospects with data, they will go onto the internet to find it. Homebot provides a property specific report that provides information the homeowner will not easily find only line while reinforcing you as the local market expert. In addition, we've integrated Homebot into Paragon for easy client registration. Taking 30 minutes to learn more will help improve your business.
~ CMA appointments to validate the value of their home
~ Options to save on interest payments or lower their monthly payment
~ How to use their equity to move up or invest in another property
~ Built in Social Media marketing
~ Agent landing page for lead generation
~ Activity tracking and reporting
~ Much more

Fri, Feb 8th @ 12 pm Click to Register
Mon, Feb 11th @ 1 pm Click to Register
Wed, Feb 13th @ 1 pm Click to Register
Mon, Feb 18th @ 1 pm Click to Register
Tue, Feb 19th @ 12 pm Click to Register
Thu, Feb 28th @ 11 am Click to Register
Fri, Mar 1st @ 1 pm Click to Register
Training Webinars
Tue, Feb 12th @ 2 pm Click to Register
Free RPR Webinars for Residential and Commercial Agents and Brokers
Click here for an overview of all the various free webinars that RPR offers to REALTORS® or click on a specific specialized link below:
Commercial Agents
Residential Agents
Brokers

Listing Maintenance Class ~ Tuesdays, February 12th, March 19th and April 16th
LIM (Listing Input and Training) class will be offered on the following Tuesdays from 10 am - 12 pm at our RANW office in Appleton: February 12th, March 19th and April 16th
More information on the LIM program can be found on RANW's website here.

Click here to register for Tuesday, February 12th
Click here to register for Tuesday, March 19th
Click here to register for Tuesday, April 16th
RPR and ZipForms Integration

RPR and ZipForms integration ~ gives you the tools you need!!
CLICK HERE for an overview of the integration of RPR and ZipForms.
MLS Basics Class Offered ~ Thursdays, March 14th and April 9th
Every MLS may do things a little bit differently, so learn what RANW MLS needs you to know! The MLS Basics class will cover our rules and recommended listing procedures, offer a review of listing data and forms needed to complete your listings, cover some of the basics of using Paragon, and provide info on the Supra lockbox program.
This class is a great supplement to the Listing Input and Maintenance (LIM) training, and can be attended by new as well as long-time members and office admins who might like a refresher course.

Register for MLS Basics from 10 am-12 noon below:
~ Click here to register for Thursday, March 14th
~ Click here to register for Thursday, April 9th


Lockbox Program
2019 Annual Lockbox Audit Due March 31st
Companies participating in the Lockbox and Key Program should have received an email from RANW MLS or Angela on February 1st including the 2019 Lockbox Audit.
Please check your records for any missing inventory and get the appropriate inventory form back to aschilling@ranw.org and khubers@ranw.org. This form must be signed by the designated MLS participant for the company and returned to RANW MLS by March 31st, 2019.
If you have any questions regarding the annual lockbox audit, please call RANW MLS 920.739.9108
Thank you!
Welcome to the Lockbox Program
#2558
#2078
Shiny Key Realty
Freedom Appraisal

REALTOR® MLS
REALTOR® MLS

Appleton
De Pere
Membership
RANW Membership Changes
To view all the current membership changes for RANW click here.
Join a 2019 Committee! Be A Part of YOUR Association
RANW members are encouraged to become involved with the Association through participation on one or more of our various committees. To learn about 2019 RANW Committees and to sign up to be considered for a committee, please click here.
Congratulations on Your Retirement!
RANW congratulates Craig Kolb of Johnson Bank in Green Bay on his recent retirement.
Important Update Regarding Non-Deductibility of a Portion of Your 2019 Dues
As noted with your 2019 Dues Statements, under the new 2017 Tax Cuts and Jobs Act, Congress changed federal tax law so that local associations can no longer include local lobbying expenses in the deductible portion of a member's annual dues. Instead, these local lobbying expenses must now be calculated into the non-deductible dues amount, along with state and national dues. Please click here for further details.
BUSINESS RESOURCES
Paws Up for Pet Insurance
NAR members now save on ASPCA® Pet Health Insurance plans. There are two plans to choose from, and NAR members get great, competitive rates. This new member benefit is available through REALTORS® Insurance Marketplace and the REALTOR Benefits® Program. Learn more here.
WRA Offers Members FREE Tech Helpline
WRA now offers free access to the WRA Tech Helpline as part of your REALTOR® or Affiliate Designate membership. This technical support helpline can assist you with computer-related issues in your office, including support on PCs, Macs, tablet machines, smartphones and more. The service is free and is part of your WRA membership. The April edition of the Wisconsin Real Estate Magazine should have included a personalized contact information card for the helpline.
This new benefit provides you with on-demand access to computer support professionals for quicker, less frustrating resolutions to your technology problems. Not only does the helpline keep your office running more smoothly, but it also minimizes downtime, saves in computer maintenance costs, provides greater business confidence, and ultimately, gives you more time to stay focused on transactions and less time troubleshooting technical issues.
Try the service today! One or two phone calls to the WRA Tech Helpline could help pay for membership in itself. Click here for more details.
Reprinted in part from Wisconsin Real Estate Magazine, April 2017
REAL ESTATE STORE
Time to Purchase Hard Copy Forms is Running Out
Soon RANW will no longer be offering hard copy forms for purchase. The WRA had discontinued hard copy forms as of October 1, 2018. We are no longer able to place order through the WRA. We are selling our remaining forms until we run out. The time to order is now! Please place your orders as soon as possible. Click HERE for forms order form and pricing list and submit to Angela at aschilling@ranw.org.

All forms are also available through your Ziplogix ZipForms account.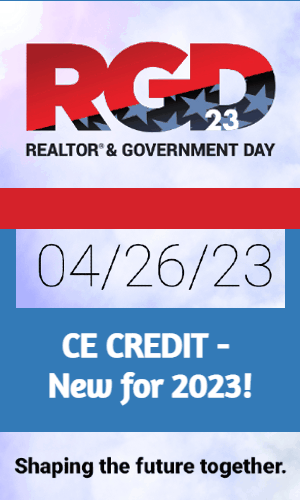 Events At a Squint
March
CRS:Convertinge Leads to Closing
Trust Funds Webinar
Trust Funds Webinar
Property Resource Webinar
Lockbox Audit Deadline
Paragon Live Web Trainings
Homesnap Live Web Trainings
CRS Data MLS Tax Suite Training
01
01
15
16
31





April

REALTOR® Emeritus Deadline
RANW Closes at Noon for Holiday
Pricing Strategy course
REALTOR® Broker Summit
REALTOR® Broker Summit
REALTOR® & Government Day
03
07
13
17
18
26


May

RANW Closed for Holiday

29

2023 RANW & MLS
Boards of Directors
RANW & MLS Executive Committee
President
Michael Sewell
President-Elect
Diane Campshure
Secretary/Treasurer
Pat Kaster
Past-President
Judd Stevenson
RANW Directors
Andy Beiser
Jenelle Bruno
Jill Dickson-Kesler
Michael Kunesh
Ben Lyons
K.C. Maurer
MLS Directors
Tyler Jedwabny
Mike Karisny
Michael Kunesh
Lori Muller
Joy Pouwels
Brittany Voigt
Executive VP
Margery Chapman