Top Stories
Appraisal Conference- March 11-12, Kalahari Resort & Convention Center, Wisconsin Dells
REALTOR Emeritus Applications Due by March 25th
Important Update Regarding Non-Deductibility of a Portion of Your 2019 Dues
REALTOR Children Scholarship Application Deadline March 8th
CRS Course Power Up on Smart Home Technologies ~ April 9th
InSight Development Conference - March 19th
Thank You For Attending The 2019 RANW Installation!
2019 Annual Lockbox Audit Due March 31st
Scroll down for additional stories-
REALTOR NEWS
Appraisal Conference- March 11-12, Kalahari Resort & Convention Center, Wisconsin Dells

Join Wisconsin-wide fellow appraisers to complete CE and pick up new skills for the industry. You'll enjoy networking opportunities while listening and learning from the appraisal industry's top experts. And relax! … you won't face the pressure of quizzes and exams at the Appraisal Conference!
For more information and to register, click here.
REALTOR Emeritus Applications Due by March 25th
REALTOR® Emeritus is a NAR designation available to any current REALTOR® member in good standing who has been a REALTOR® consistently for at least 40 years in a local board and a member of NAR, who currently serves on a local, state or national association committee.
~ Applications submitted in the years 2015 through 2019 will require proof of one (1) year of service* at the local, state, or National Association level.
* "Service" is defined as serving as an officer, director, committee member, federal political coordinator, president's liaison or regional coordinator to a country with which NAR holds a reciprocal agreement.

In some cases, RANW does not have data from the year a REALTOR® joined, so we don't notify members. If you feel you qualify for REALTOR® Emeritus, please contact Cheryl at cdreger@ranw.org by March 25, 2019. RANW will work with you to complete the application and provide evidence of your 40 years and proof of service to submit to NAR.
Important Update Regarding Non-Deductibility of a Portion of Your 2019 Dues
As noted with your 2019 Dues Statements, under the new 2017 Tax Cuts and Jobs Act, Congress changed federal tax law so that local associations can no longer include local lobbying expenses in the deductible portion of a member's annual dues. Instead, these local lobbying expenses must now be calculated into the non-deductible dues amount, along with state and national dues. Please click here for further details.
Welcomes Caryn Reinthaler!
RANW welcomes Caryn Reinthaler, our new Education and Events Coordinator. Caryn is the former Executive Director for the DeForest Windsor Area Chamber of Commerce. In her words, she's passionate about events, loves to spend free time with family and enjoys all things sports!
Education
REALTOR Children Scholarship Application Deadline March 8th
A membership benefit of the Wisconsin REALTORS® Association is the REALTOR® children's college scholarship. In 2019, the Wisconsin REALTORS® Foundation board of directors of the association will award 20 scholarships in the amount of $750 each to sons or daughters of association members.
Please read and complete the information and return the application by March 8, 2019, to the Wisconsin REALTORS® Foundation Inc., 4801 Forest Run Road, Suite 201, Madison, WI 53704.
CRS Course Power Up on Smart Home Technologies ~ April 9th

WRA will be offering a CRS "Power Up on Smart Home Technologies" one-day Course on April 9th. Click here for registration information.

The Certified Residential Specialist (CRS) is the professional designation offered by the Residential Real Estate Council. The highest designation awarded to sales associates in the residential sales field, the CRS designation recognizes professional accomplishments in both experience and education.



Events
InSight Development Conference - March 19th
This year, RANW is one of the Partner Sponsors of the 10th Annual InDevelopment Conference at the Red Lion Hotel Paper Valley in Appleton.
As part of that sponsorship, all RANW members are eligible for a $15 off code if you register by March 1st. When you register through the link below, use code: SPONSOR15. Please note that this code is case sensitive and be sure to click the blue "Apply Code" button before submitting the registration.
Click here for more information on speakers and programming.
Registration: Tickets: $45 after March 1st
2019 REALTOR Broker Summit ~ April 2-3rd

Registration is now open for the 2019 REALTOR® Broker Summit, April 2-3, in Austin, TX.
~ Register on/before March 11th to receive the early bird rate of $249.
~ After March 11, 2019 registration price will increase to $299.
The REALTOR® Broker Summit offers an incredible two days of learning, exclusive insights, and networking opportunities. Stay on the cutting edge by discovering new technologies and business strategies from industry leaders. View information from past REALTOR® Broker Summits.
NAR Legislative Meetings & Trade Expo~ May 13-18th

The REALTORS® Legislative Meetings & Trade Expo is where NAR members take an active role to advance the real estate industry, public policy and the association. REALTORS® come to Washington, DC, for Capitol Hill visits, special issues forums, committee meetings, legislative activities and the industry trade show. This year's Legislative Meetings take place May 13-18, 2019, and the REALTORS® Trade Expo takes place May 15-16, 2019. The event is held annually in Washington, DC each May.
Click here for registration details.
Mark your Calendars ~ Upcoming Popular RANW Events!
Thursday, June 20th
Wednesday, July 17th
Tuesday, August 6th
Thursday, August 22nd
Thursday, September 12th
Thursday, December 5th
Thursday, December 12th
Timber Rattler Make-A-Wish Fundraiser
Green Bay Golf Outing
Fox Valley Golf Outing
Fond du Lac Golf Outing
Oshkosh Golf Outing
Fond du Lac Holiday Party
Green Bay Holiday Party

Thank You For Attending The 2019 RANW Installation!

This year's Installation & Membership Meeting was made possible by
First American Title - Evans Title Companies and Associated Bank. Thank you so much for your generous and incredible support!

Congratulations to our 2019-2020 President Judd Stevenson and the new Directors/Officers who were installed to the Board on February 26th.
Thank you to all those that attended this years Installation. Your presence and involvement are so appreciated!



Government Affairs
REALTOR & Government Day April 24th ~ Madison Concourse Hotel & Governor's Club

It's time to lobby! The WRA's annual lobbying event, REALTOR® & Government Day, is your chance to shape the laws that affect you and your real estate business in Wisconsin.

The event kicks off with an issue briefing where you'll learn about pending laws and how they impact real estate. Next, you'll move to the Capitol for lawmaker visits. You'll have the unique opportunity to meet in person with your state lawmakers to lobby for or against these laws.

This is your chance to advocate for issues that impact the real estate industry, homeownership and property rights in Wisconsin. Your voice will be heard, and a better Wisconsin real estate market will follow. For the event Flyer or to register, click here.
Local Short Term Rental Ordinances
In the 2017-19 state budget, a new law was passed protecting homeowners' right to rent out their homes on a short-term basis (less than 30 days) such as Airbnb and VRBO. Although local governments cannot prohibit short-term rentals, they can regulate them through ordinances, permitting requirements, and inspections that place limits on things such as occupancy, noise, parking, etc. They can also charge fees and room taxes in addition to those charged for required state permits.
RANW has been tracking ordinances that have been put forward from several communities in Northeast Wisconsin. To our knowledge, the following have either adopted or are considering such ordinances:
Oshkosh
Neenah
Clayton
Menasha
Green Bay
Ashwaubenon
Hobart

If you become aware of additional communities considering adopting a short term rental ordinance, please contact Jennifer Sunstrom at the RANW office.

RPAC Office Participation Awards - 2018
In an effort to increase the percentage of members who contribute to either RPAC or Direct Giver, the Association is asking brokers to help highlight advocacy and other legislative activity; educating agents about RPAC and why it is so important to their business; setting an example of giving. These efforts by brokers play a critical role in the overall success of the Association as a whole.
Therefore, RANW and the Government Affairs Committee have established a recognition program for offices that meet the following participation levels in their individual offices: * Note these levels:
Office Size
Extra Large Office
Large Office
Medium Office
Small Office

Agents
51+
26 - 50
11 - 25
5 - 10

Participation
50%
55%
65%
70%
The following offices met their required participation level in each of the 4 office categories in 2018 and will be receiving an award at the 2019 RANW annual meeting.



Extra Large Offices



Century 21 Ace Realty (Appleton) - 73% participation
Coldwell Banker TREG (Lynndale) - 66% participation
Coldwell Banker TREG (Green Bay) - 55% participation

Large Offices
| | |
| --- | --- |
| Coldwell Banker TREG (Neenah) - 59% participation | |
Medium Offices
Beiser Realty (Winneconne) - 70% participation
Coldwell Banker TREG (Shawano) - 92% participation
Expert Real Estate Partners - 76% participation
United Country Udoni & Salan (Waupaca) - 85%



Small Offices
Coldwell Banker TREG (Oshkosh) - 90% participation
Exit Elite Realty (Shawano) - 71% participation
Place Perfect Realty (Menominee) - 83% participation
RE/MAX On the Water - 75% participation
Realty World Greater Green Bay - 83% participation
Thiel Real Estate - 83% participation




RANW's membership is made up of many, many smaller offices with 1, 2, 3, and 4 REALTORS® who regularly contribute to RPAC and Direct Giver. We sincerely thank you for your support. We couldn't do what we do without you!
If you would like more information on how you can help to increase the participation level in your office, please contact Jennifer Sunstrom at jsunstrom@ranw.org or call 920.739.9108.
Thank You to all 2018 Direct Givers and RPAC Contributors!
In 2018, not only were we able to exceed our fundraising goal,, but we had the highest participation rates for Extra-Large boards and highest per capita!!! Slowly, but surely we are moving closer to having each member financially support the association's advocacy efforts and help elect and reelect candidates who support the real estate industry and private property rights.
The RANW Government Affairs Committee and the RANW Board of Directors, sincerely thank every single person who gave what they could either to RPAC or to the Direct Giver Program. Although we are not able to list all members who so generously support the RPAC program, every single dollar counts! A special thank you is also extended to the 2018 Government Affairs Committee Chair: Sue Hietpas and the entire Government Affairs Committee, as well as so many brokers who have helped highlight the importance of RPAC to their agents. If you have any questions regarding RPAC or Direct Giver, or if you would like to become involved in the Association, please contact Jennifer Sunstrom, RANW Government Affairs Director at jsunstrom@ranw.org or (920)739-9108


$2000
| | | | |
| --- | --- | --- | --- |
| Phil Hilgenberg | Terry Hilgenberg | Pat Kaster | |

$1000
Tim Besaw
Mike Drexler
Taylor Hansen
Jerry Lyons
Duane Murphy
Sara Schnell
Brittany Voigt


Eric Bockhorn
Jack Drzewiecki
Stacey Hennessey
K.C. Maurer
John Pfefferle
Michael Sewell



Diane Campshure Walczyk
Jim Fletcher
Mike Kunesh
Dina Mitchell
Mike Pfefferle
Scott Swick



Greg Dallaire
Ryan Fulcer
Ben Lyons
Lori Muller
John Schnell
Kris Villars



$500
| | | | | |
| --- | --- | --- | --- | --- |
| Amy Alexander | Margery Chapman | | | |

$400

$300
| | | | |
| --- | --- | --- | --- |
| Terry Bomier | Tim Freudenthal | | |

$200
Jeff Beck
Candace Kriner
Jim Seefeldt
Jennifer Sunstrom


Tina Bunker
Anne Paulus
Keith Sippel
Karl Volkman


Jill Hendricks
Jill Rooney
Judd Stevenson
Jerry Wendland


John Koeller
Paul Schmidt
Peter Stueck
Jim Zierden

$100
Dennis Biggar
John Coughlin
Jack Doemel
Debbie Gritt
Teresa Keenan
Ron Malueg
Michelle Plass
Lynn Schwarm
Cindy Weyenberg


Mary Bosio
Kathy Curren
Joe Dooley
Rebecca Hack
Pat Klapperich
Joann Mau
Christine Ratchman
Walt Sinisi
Pete Weyenberg


Bonnie Brandenburg
Richard De Kleyn
Gary Eake
Sue Hietpas
Barb Knickel
John Mau
Paul Redemann
David Spanbauer



Jane Chariton
Jill Dickson-Kesler
Karen Genett
Mike Karisny
Kevin Loosen
Julie Nikolaou
Dennis Rockow
Mari Timm-Reichel


MLS
Paragon System Enhancements ~ February 2019

See full how-to help tips on these system enhancements under Paragon: Resources > MyLinks, or click the link here:

Notes from Paragon: We've got plenty of quality of life enhancements packed into the Paragon5.69 release. There's some updates for mapping, some work done on CMAs, andwe've tweaked the Contact Activity Widget to take into account your feedback.

Mapping Geocode: If you've manually placed the map pin, Paragon will not attempt to re-geocode the listing if the listing address is updated. Don't forget to update the pin if you need to!

CMA - Calculated Auto Adjustments for Numeric and Feature Fields: What do you want? The ability to pre-set adjustment values for numeric and feature fields that will automatically calculate values across Comps in a CMA. When do you want it? Hopefully in the 5.69 release as that's when it's being implemented.

CMA - Other Enhancements:
~Too Much Content Warning: If the combined images and text in the CMA Agent Resumes, Company Info, or Final Comments exceeds the space available in the final document, a warning message will display. Will not shout "Danger, Will Robinson" at you, even if you wanted, sadly.
~Clone for Subject Property: When selecting an existing Listing Number as a CMA Subject Property, the Copy/Clone function will populate a copy of the listing as a Subject Property so agents have the ability to update the data to reflect the current info for the Subject Property. Previously, if a previous listing was used they could not modify it for the purposes of the CMA.
~Quick Access to Subject Property: From the Comparables Search screen, a button to View the Subject Property will display the Detail of the Subject Property to help select the appropriate comparables criteria. Miscellaneous

Contact Activity Widget Changes: Based on valuable feedback, we've updated the Contact Activity Widget to include additional functionality and clarify several actions.

Mapping - Set Zoom Level Response When Searching: Choose how you want the map to respond when running a map search. Currently, the map will zooms out in order to display all results (yes, even those geocoded to another country!), with this release the map will display at the default MLS/User zoom level focusing on your MLS Market Area. If you still want it the old way (wide out, international view) simply go to Preferences > Search Options and check the" Enable Map Boundary to Zoom Out to Display all Listing Results" option, otherwise do nothing.

Search - Action Buttons Added to Top of Quick Search Widget: If you've ever had to scroll to the bottom of the Quick Search Widget to use an action button and thought to yourself, "I really wish I could just click these buttons at the top of the widget instead," thentoday is your lucky day.
Stop Sending Unsolicited and Mass Email to Members Please
MLS continues to receive numerous requests from members to put a stop to repeated emails from other members regarding announcements of new listings, open houses, etc. These messages should not be sent to other members or companies without prior consent.
Section 4.29 COMMUNICATIONS (RANW MLS Rules & Regulations) reads:
Electronic membership data from RANW or RANW MLS may not be used for the purpose of broadcast emailing of new listings, status or price changes, open houses, incentives and bonuses.
Reminder: The Federal CAN-SPAM Act is a law that sets the rules for commercial email, establishes requirements for commercial messages, gives recipients the right to have you stop emailing them, and spells out tough penalties for violations. It covers all commercial messages, which the law defines as "any electronic mail message the primary purpose of which is the commercial advertisement or promotion of a commercial product or service," including email that promotes content on commercial websites. The law makes no exception for business-to-business email. That means all email - for example, a message to former customers announcing a new product line - must comply with the law.

Listing Maintenance Class ~ Tuesdays, March 19th and April 16th
LIM (Listing Input and Training) class will be offered on the following Tuesdays from 10 am - 12 pm at our RANW office in Appleton: March 19th and April 16th
More information on the LIM program can be found on RANW's website here.

Click here to register for Tuesday, March 19th
Click here to register for Tuesday, April 16th
Virtual Tour Uploads for Non-LIM Members
Members who do not use the Listing Input and Maintenance (LIM)tool to enter and change their listings are no longer able to upload VirtualTours. This is an unintended result of recent security level changes needed for LIM.

As we work with Paragon to find a way to once again allow VirtualTour uploads for non-LIM offices, MLS Data Entry staff will upload Virtual Tours for those members. Non-LIM participants can email their Virtual Tour URL and the MLS number of their listing to: listings@ranw.org.
Price Entered Wrong in Paragon: The Importance of Swift Correction by Listing Company-Agent
For Companies and Agents who use Listing Maintenance in Paragon, if you accidentally enter the list price incorrectly on a listing before the listing is confirmed by MLS, MLS will ask you to re-enter your listing. Re-entering the listing can be done by you by cloning the listing you just entered but with the correct price; you will also need to attach any documents and photos to your new cloned listing. Once the new listing is entered/cloned, MLS Data Entry will delete the first listing with the incorrect price.
The importance of re-entering the listing is so the listing and history does not forever show a price increase or decrease in Paragon's Collab Center and Statistical Reports and Public Websites; with many listings the price could be off many thousands or more. Years ago, MLS Data Entry was able to go into the MLS System History files and correct the incorrect price change, now the new MLS System does not allow for this.
HomeBot Webinars

Homebot is an optional tool offered through Paragon. It is a sellers marketing tool designed to provide homeowners with data to better understand their home and how they can build wealth. The monthly report has a 68% open rate and will generate more activity between you and homeowners.
If you don't provide your prospects with data, they will go onto the internet to find it. Homebot provides a property specific report that provides information the homeowner will not easily find only line while reinforcing you as the local market expert. In addition, we've integrated Homebot into Paragon for easy client registration. Taking 30 minutes to learn more will help improve your business.
~ CMA appointments to validate the value of their home
~ Options to save on interest payments or lower their monthly payment
~ How to use their equity to move up or invest in another property
~ Built in Social Media marketing
~ Agent landing page for lead generation
~ Activity tracking and reporting
~ Much more


Training Webinars


Wednesday, March 6th @ 12 pm Click to register
Wednesday, March 27th @ 9 am Click to register
MLS Basics Class Offered ~ Thursdays, March 14th and April 9th
Every MLS may do things a little bit differently, so learn what RANW MLS needs you to know! The MLS Basics class will cover our rules and recommended listing procedures, offer a review of listing data and forms needed to complete your listings, cover some of the basics of using Paragon, and provide info on the Supra lockbox program.
This class is a great supplement to the Listing Input and Maintenance (LIM) training, and can be attended by new as well as long-time members and office admins who might like a refresher course.

Register for MLS Basics from 10 am-12 noon below:
~ Click here to register for Thursday, March 14th
~ Click here to register for Thursday, April 9th
Free RPR Webinars for Residential and Commercial Agents and Brokers
Click here for an overview of all the various free webinars that RPR offers to REALTORS® or click on a specific specialized link below:
Commercial Agents
Residential Agents
Brokers

Lockbox Program
2019 Annual Lockbox Audit Due March 31st
Companies participating in the Lockbox and Key Program should have received an email from RANW MLS or Angela on February 1st including the 2019 Lockbox Audit.
Please check your records for any missing inventory and submit the appropriate inventory form back to aschilling@ranw.org and khubers@ranw.org. This form must be signed by the designated MLS Participant for the Company and returned to RANW MLS by March 31st, 2019.
If you have any questions regarding the annual lockbox audit, please call RANW MLS 920.739.9108.
Thank you!
Membership
RANW Membership Changes
To view all the current membership changes for RANW click here.
Sincere Condolences
RANW would like to extend its sincerest condolences to the family, friends, and co-workers of:

~ Alyson Peters in the recent passing of her daughter. Alyson is a REALTOR® with Coldwell Banker The Real Estate Group in Neenah.

Congratulations on Your Retirement!
RANW congratulates Sharon Buresh of Coldwell Banker The Real Estate Group in Green Bay on her recent retirement.
REAL ESTATE STORE
Shoe Covers Are Selling Fast! Two Styles to Choose From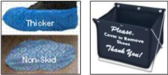 Protect your listing from high volumes of foot traffic with these waterproof, reusable and disposable shoe covers. One size fits shoe sizes 6 - 14.
~ Heavy duty and non-skid styles to choose from.
~ Comes in blue or white
~ Each package of 100 contains 50 pair of covers.
~ Cost: 50 pairs - $21.00 plus tax.
Stop in or place an order today at RANW.




Events At a Squint
March
New Member Orientation
Name That Tune
Scholarship Deadline
Appraisal Conference
Appraisal Conference
MLS Committee
Insight Development Conf
Forms Committee
WCR Board Meeting

07
07
08
11
12
13
19
19
21


April

NAR Broker Summit
NAR Broker Summit
CRS Course
WCR Board Meeting
WCR Luncheon
REALTOR & Govt Day
Appraise Lunch/Program
02
03
09
11
18
24
30

May

NAR Mid Year Meetings
13
2019 RANW
Board of Directors
President
Judd Stevenson
President Elect
Michael Sewell

Secretary/Treasurer
Jim Smith

Past-President
Michael Kunesh
Executive VP
Margery Chapman
Directors
Candace Kriner
Pat Kaster
Charlene Maurer
Mari Reichel
Jill Dickson