Top Stories
Membership Renewal Time Coming Soon!
2020 RANW Neighborhood Outreach Day - Friday, October 23rd!
Virtual Appraisal CE Quickly Approaching
Scroll down for additional stories-
REALTOR NEWS
Membership Renewal Time Coming Soon! Update Your Preferred Mailing Address
The annual membership renewal dues will be generated in early October and mailed out to each member's preferred mailing address.
If you would like to update your preferred mailing address from office to home of vice versa, please login to your member portal with your member id or NRDS id and update the Preferred Mail section. See instructions here.

The discounted dues deadline will continue to be Sunday, November 15th this year. Thank you for your membership!
FORMS - Important to Know

The mandatory use date of the new WB-11 Residential Offer to Purchase "Take 2" and the WB-14 Residential Condominium Offer to Purchase is September 1, 2020. Early in the year there was proposed legislation to update the Real Estate Condition Report (RECR) and the Vacant Land Disclosure Report (VLDR), but the state Senate did not meet because of the pandemic and the proposed legislation may need to be re-introduced in 2021.

The new offers, however, were drafted to include the expected modifications. The WRA has updated the RECR and the VLDR to include the same proposed modifications that were captured in the offers. This new content appears in italics in the condition reports. The new offers and condition reports are all available on zipForm.

When taking a listing after September 1, 2020, should licensees ask sellers to complete the new versions of the RECR and the VLDR? Yes. The WRA RECR and VLDR contain the expected legislative modifications and were drafted to match the content of the new offers.

Should licensees ask sellers to complete the new WRA RECR and VLDR on current listings if there are no accepted offers? Sellers are not required to do so, but it may be good to see if they are willing. The new condition report forms address additional disclosures that may be beneficial for buyers. The disclosures in the new RECR will match the disclosures in the "Conditions affecting the Property or Transaction" in the new WB-11 and the new WB-14. The disclosures in the new VLDR will be the same as the disclosures in the new WB-13 Vacant Land Offer to Purchase expected to be released at the beginning of 2021. Again, a new condition report should possibly be requested only if the listing does not have an accepted offer.

For further discussion, see the New Offers, New RECR, New VLDR handout on the Forms Update Resources page at www.wra.org/FormsUpdate.
RANW Annual Meeting and Elections - Stay Tuned
The RANW Annual Meeting, previously scheduled for October at Bridgewood in Neenah was canceled and a virtual option is under consideration later in 2020. Election of Directors will be held either at a virtual meeting or online. The "Jim Smith Excellence in Professionalism Awards" will be postponed until 2021 when we can celebrate the excellence of our members together. Please stay tuned for details.
Member Alert!
From WRA Legal News - MEMBER ALERT:
Any DSPS credential holders who received an email asking them to click a link to validate information or face renewal delays should NOT click the link. That email is a scam.
NAR: Safety Tips for REALTORS® Free Podcast
Safety Tips for REALTORS® is a new podcast episode from the Center for REALTOR® Development featuring guest Donny Allen. Listen to the free podcast HERE!
Rental Assistance Needed for Renters & Housing Providers Alike
On September 4, the Centers for Disease Control and Prevention (CDC) declared a "temporary halt to residential evictions to prevent the further spread of COVID-19," which applies to all residential housing. This moratorium ends on December 31, 2020.

This may seem helpful to renters in the short-term. But, this notice does not relieve residents from their rent obligations, and landlords may charge late fees, penalties and interest on missed rental payments.

Right now, housing markets are strong. But a lack of rental assistance jeopardizes the entire real estate market. The eviction crisis that will occur at the end of this eviction moratorium will be significant. The current eviction moratorium will leave housing providers and renters alike struggling, and will have a devastating impact on our national economy. Read the full story HERE.
Education
CE Live Classes

Live CE classes from RANW & WRA are scheduled starting September 29th! Location for all classes: Grand Meridian, Appleton. Schedules have changed -- be sure to note the new registration form as of 9.24.20. (As with all live events, especially those planned for fall, changes are not unexpected due to extraordinary circumstances and many moving parts.)

The series of six classes have been moved to ONE LOCATION ONLY on the new dates listed below.

One Location: The Grand Meridian, 2621 N. Oneida Street; Appleton. View the map HERE.

Lunch option is available for an additional $12 cost; please see registration form. Register HERE.

Courses 1 & 2 ~ Thursday October 1 (Course 1 morning; Course 2 afternoon)

Courses 3 & 4 ~ Tuesday October 13 (Course 3 morning; Course 4 afternoon)

Courses 5 & 6 ~ Tuesday October 27 (Course 5 morning; Course 6 afternoon)

ALL CLASSES ARE SUBJECT TO CANCELLATION should circumstances warrant related to the COVID-19 pandemic, including instructor availability.

RANW LIVE CLASS REQUIREMENTS: CDC guidelines will be followed wherever possible at the live CE sessions at the Grand Meridian. Class sizes will be limited; social distancing will be required; masks will be required to be worn AT ALL TIMES except when in the act of eating or drinking - EVEN DURING CLASS, whether or not a state mandate is in place.

OPTIONS: With the changing course of the pandemic, ALL LIVE EVENTS ARE SUBJECT to CANCELLATION. If you are concerned about further cancellations with CE, or if you cannot wear a mask for the entire time, there are many other options for CE classes, such as OnDemand, LiveStream (the new Zoom interactive option) and other courses through WRA and Assn's in WI: https://www.wra.org/RECEinfo/ and https://www.wra.org/CeSCHEDULE/ (RANW's classes have not been updated.) Options are also available at area Tech Schools; some start in September.
Upcoming Virtual CRS Courses - September & October

Keynote speaker, podcaster, social media expert and best-selling author Marki Lemons-Ryhal will be teaching two virtual classes for Wisconsin:
~ September 25th & October 2nd:
"Digital Marketing: Establishing a Social Media Brand"

~ October 9th and 16th:
"7 Things Successful Agents Do Differently: A Proven Business System"

Virtual classes are 9 a.m. to 1 p.m. and will be recorded and available for playback. All agents are welcomed! Classes count toward earning CRS designation. Visit wra.org/crs to register!

The Certified Residential Specialist (CRS) is the professional designation offered by the Residential Real Estate Council. The highest designation awarded to sales associates in the residential sales field, the CRS designation recognizes professional accomplishments in both experience and education.
Events
NAR REALTORS® Conference & Expo Will Go Virtual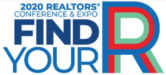 The 2020 REALTORS® Conference & Expo, originally scheduled for Nov. 13-16 in New Orleans, will transition to a fully virtual format November 2-18. NAR will announce details, including registration information, in the coming weeks around mid-September. The virtual format will include the association's governance meetings, as well as a full roster of educational speakers, energizing live-streamed content, networking opportunities, and an industry expo.
Government Affairs
2020 RANW Neighborhood Outreach Day - Friday, October 23rd!

This is a great opportunity for RANW members to volunteer to help homeowners in your community by raking lawns and other fall lawn maintenance tasks for elderly and disabled residents in your market area. If you are interested, please mark your calendars! Click for an information flyer, team registration flyer, volunteer agreement and directions/information. Deadline to register is October 2nd!
Wisconsin Voting Information

The November 3rd election is quickly approaching. Do you have a voting plan? Don't wait until the last minute to decide how you want to vote this year and gather the information on what you need to do.

Where is my polling location?
How do I update my address?
How do I register to Vote?
How can I vote absentee?
How do I request a ballot?
What's on my ballot?
What are the deadlines for voter registration and absentee ballots?
Do I need photo ID?
How do I fill out and return my ballot correctly so that it counts?

Answers to all these questions can be found in one easy location:
My Vote Wisconsin
Wisconsin's Direct Giver Program - Candidates Need Your Help Now!
We are reaching the end of RANW's Direct Giver Fundraising period and the November elections are quickly approaching. We ask that all members who have been Direct Givers, or wish to become new Direct Givers please send in your contribution now, so that we are able to help candidates who are raising funds and campaigning for election. The WRA Direct Giver Program provides an alternative to an RPAC contribution for members who:
- wish to retain full control and direction over who will receive their political contributions
- wish to give personal contributions to candidates for local and state elections and at the same time benefit the REALTORS® Association
Direct Giver Process
1. Solicitations: The minimum contribution is $100.00.
2. Checks: Checks can be used and must be made to the WRA DirectGiver Program (not RPAC). Checks can be sent to RANW, W6124 Aerotech Dr., Appleton, WI 54914.
3. Credit Cards: You may also pay on-line via credit card. Click here and login to the WRA site. Or you can call Jennifer at 920.739.9108 with your credit card information and she will take care of it.
4. Control: Contributions to the Direct Giver Program are deposited in a separate bank account from RPAC contributions. Structurally, the WRA then acts like a bank, with disbursements permitted only with the explicit authorization of the contributor. That is, you retain full control on how your direct giver money is spent.
5. Directing Contributions: Contributors may at any time direct their contributions, in whole or in part, to any candidate for local, state or federal office. When disbursing funds, contributors can email or call RANW or WRA to indicate how they wish their money to be distributed.
WRA 2018-2020 Legislative Report Now Available

All of WRA's 16,000 members have been sent their Legislative Report, which summarized the priorities and bills of the Association's advocacy efforts this last session. You may also view the report online here: WRA Legislative Report. Please don't forget that your support for RPAC each year is critical to our advocacy efforts!!
MLS
Paragon Connect Updates

- PROPERTY WATCH
In our previous release, we introduced interactive parcels. With interactive parcels, you can zoom and tap on any parcel. You can then view the public record data of that property. In this release, we are now adding the ability for you to watch these properties and get alerted when any data changes on these records. We also apply a color overlay to any watched properties. This allows you to see which parcels you are already watching.
1. Click on any Parcel
2. View Public Record Data
3. Watch that record
4. Map highlights any watch properties
5. Alerts sent on any changes to the property
- MULTIPLE TOURS AND OPEN HOUSES
The tour and open house search results in Paragon Connect have been enhanced to show you multiple events per listing. In the past if you searched for an open house within the next 7 days it would show you only the next open house that is occurring. But if there were more tours that week you wouldn't be able to see that information. Now if there are multiple events within that time frame it will show each event.
In addition to the multiple results, you can now click on these results to view the details of that tour or open house event. You can even click on the "Add to Calendar" to add to your default calendar on your phone or computer.
- LIVE STREAM OPEN HOUSES
Paragon Connect will now include the live stream Open House options that were added to Paragon Classic. You can now configure your tour and open house search to search by only in person events, live only events, or allow both.
When live stream options are available you will see the same live link, you see in Paragon Classic.
Old Expireds in your Market Monitor?
Members have noticed old Expired and Sold listings appearing in their Market Monitor and auto-Hotsheet emails. These are WIREX listings, and are showing up now because an update to the WIREX databases is updating each listing as it is transferred from one server to another.
This update is expected to last into the holiday season. If you are searching for listings that actually expired or sold within a certain time period, the best tool to use is a Hotsheet Search (found under Paragon's Search tab).
Once the update is completed, your Market Monitor and auto-Hotsheet will return to normal. Click here for a helpful document that shows the differences between the Market Monitor and Hotsheet tools
Realtor.com Spinner Widget added to Paragon (Don't Forget to Update your Agent Profile too)

Realtor.com's "spinner" widget has been added to the home page of Paragon. When you log in, scroll down the center of the screen to below the MLS News articles but before the recorded webinars.
The widget gives you quick and easy access to many Realtor.com tools, including a link to set up or edit your profile on Realtor.com! Setting up your profile gives you an opportunity to share your information with people searchng for a Realtor.

New Contact View shows Listing Detail and Comments
To help save you time, we have created a new view in contacts where you can see your listing default report with any comments made for a particular property your client is collaborating on with you. This view will allow you to be able to read the comment and know exactly what property they are commenting on, so you can comment right back to them. Accessing this view can be through the contact widget on the front page or through the contact tab by clicking on the bubble.
Power Search Refinements
Viewing Inactive Members and Include in Roster Flag: In this release, we've refined how the Power Search results for members are displayed in the agent roster.
Previously the agent roster was only returning active members, even when the user had permission to view inactive members. Now the roster will return inactive members where applicable.
In addition to this the system will now respect the Include in Roster Flag in the agent record when returning Power Search results, based on user security.
User Interface Enhancements to Power Search Bar: To help improve the readability of the Power Search input and results, some minor UI changes were made. The size of the input box was increased; the Help icon and Voice Search icons were aligned with the box.
Refinement to update status color: To improve the readability of the listing results, in Power Search, the status text changes to white when the row is highlighted and returns to the specified status color when the row is not highlighted.
Seller Authorization Form is now on ZipForms

The Seller Authorization to Exclude Listing from MLS or Delay Showings form is now available on ZipForms.
It is also found on the RANW website under MLS > Listings > Submit A Listing, and in Paragon under Resources > My Links
http://www.ranw.org/pdf/MLS/Listings/propertyexemptionfromMLS.pdf

Collaboration Center Notifications Added to Search Activity
The Contact Summary in the Paragon Contact Manager has been enhanced to now show Collaboration Center Notifications! Previously it only showed email searches, however now when you go to your Contact you will be able to see all information for notifications you sent out of Paragon to that client and how they were sent.
Go to Contacts> View Manage Contacts> Click on the Contact Name you wish to view. Next click on Contact Summary > Search Activity section. The grid has been enhanced to show all notification settings: Off, Email, or Collab Center.
Waterfront Listings Require a GIS/Map Photo:
With the broadening allowance of properties eligible for Waterfront classification in MLS, a photo upload of a GIS image is required for all Waterfront=Yes listings. If a member does not have access to a GIS image, they may use the Aerial View of the listing map in Paragon (if the map shows the correct location) to create an image that can then be uploaded as one of the 60 photos allowed for the listing in MLS.
Members may also choose to upload a PDF document of the GIS image or map, but that does not replace the PHOTO requirement.
If You Have Screen-Shot Software: using that will be the easiest method of obtaining Paragon's map image as a photo.
If you do not have Screen-Shot Software: you can print the map image and scan it as an image.
Here is how to obtain Paragon's aerial map image for posting AS A PHOTO with your listing: http://www2.ranw.org/pdf2/HowTo-Waterfront-PhotoGISmap.pdf
TrustFunds - New RANW MLS Program Offered

Did you know that RANW MLS has partnered with TrustFunds to bring electronic earnest money to our market?
If you missed the Agent Orientation for TrustFunds, click here to see the recorded webinar!
Brokers - if you didn't attend the Broker Demo/Registration, you can watch the recorded webinar here!
Remind Your Sellers of Appointments for Showings, Appraisals and Home Inspections - Practice Safety
Brokers, Appraisers, and Agents: Remind Your Sellers of Appointments for Showings, Appraisals and Home Inspections - Practice Safety

MLS has learned of instances of members arriving for a showing, appraisal or inspection, only to find that homeowners are unaware or have forgotten about the appointment. It is critical for you to make sure you are communicating thoroughly with all parties. You can set up reminders for yourself so that you are responsible to remind your Sellers! If a homeowner is unaware of an appointment, or fails to notify a tenant, serious situations can arise with the occupant thinking there's an intruder.

Showing Time has tools for members that allow users to set up calendars and reminders for their Sellers. See the links below that Showing Time has shared regarding their communication tool options:

Mobile:
https://apptcenter.uservoice.com/knowledgebase/articles/431162-mobile-the-mobile-app-for-sellers
You can also find helpful articles from Showing Time: https://apptcenter.uservoice.com/ - do a search for "Sellers".
For questions or help with Showing Time, please use: https://www.showingtime.com/support. Thank you for your part in practicing Safety ~ Safely!

*As a side note, please always be courteous to your clients and fellow real estate professionals. Wear booties as to not track mud or other things into properties. RANW has booties for sale if interested. Please call the office for more information. Also, remember to wear masks and gloves as needed and give timely feedback for showings. We're all in this together!
COVID-19 Reminder: Practice Real Estate Safely
According to the Centers for Disease Control and Prevention (CDC), individuals should continue to practice social distancing to reduce risk to yourself and others from exposure to or contraction of the coronavirus, and to prevent further spread in our communities.
When setting up showings, agents are reminded to consider these guidelines and use caution and proper preparedness to avoid overlapping showing appointments and to implement safety measures at open houses. Showing Time makes it easy to set up showings to avoid overlapping appointments.
The WRA created a page and documents specific to COVID-19 safety for Showings and for Open Houses, titled "WRA Best Practices for Open Houses" and "COVID-19 Best Practices for In-person Open Houses", and other useful documents to use during this time: www.wra.org/coronavirus.
Homesnap October Training Calendar
Visit the Homesnap Training Calendar for October Webinars! https://blog.homesnap.com/livestream-training-with-ana/
RANW MLS October Webinar Calendar
The RANW MLS Webinar calendar has been updated for October 2020!
CLICK HERE to view the calendar.
This month the following vendors will be hosting webinars:

RPR
Realtor.com
WRA
NAR

Paragon
Paragon Mobile
ListHub
Homesnap
Homebot

TrustFunds
Supra

If you know of a webinar or virtual meeting you think should be included in the calendar, please email khubers@ranw.org or call the office: (920)739-9108. Thank you!
FREE Live Paragon Webinars!
Black Knight (Paragon) has brought back a regularly scheduled series of webinars. These FREE, live webinars will help you get much-needed information to continue being productivity in an ever-changing work environment. Click here for the webinar calendar. Please visit or follow on Facebook @ParagonMLS.
Free RPR Webinars for Residential and Commercial Agents and Brokers

Join these workshops to learn how to leverage these two powerful REALTOR® business tools to your advantage. Learn to easily set-up and connect your RPR and zipForm accounts, and then how to improve your business efficiencies by moving seamlessly between the two.
Click below for an overview of all the various free webinars that RPR offers to REALTORS® or click on a specific specialized link below:
Commercial Agents
Residential Agents
Brokers

22 Quick Tips and How-To Videos! Try watching a tip per day or take them all in at once, it's up to you! You won't spend a ton of time, but you'll learn some heavyweight skills, shortcuts and strategies.

New from RPR:
RPR Launches New Shortcuts Menu for Guided Tours
5 RPR Report Customizations you may not be Using
Blog Writing Tips for Realtors
Realtor.com October Training Sessions
Please visit Realtor.com for the most recent on-demand and scheduled live training. If you see a subject that interests you, click on the title on the page and register! On demand videos are recorded and available at anytime.
Lockbox Program
Welcome to the Lockbox Program
| | | | |
| --- | --- | --- | --- |
| #4199 | Mahler Sotheby's International Realty | Realtor MLS | Milwaukee |
Supra Creating Super Alerts
Safety tip for eKEY users:
The Agent Alert function on your Supra eKEY is important to set up. If you ever find yourself in an unsafe situation, you can alert your contacts to your location at the push of a button! Watch the how-to video HERE.
RANW MLS Lockbox Sanctions and Fines
To: RANW MLS Participants, Brokers, Agents, Appraisers, and Home Inspectors participating in the Supra Lockbox System

Re: Notice of MLS Sanctions re: mis-use of Supra Lockbox Keys in non-compliance with RANW MLS Rules

RANW MLS recognizes the value of our Supra Lockbox service and is pleased to be able to offer it our members. To ensure the best integrity of the system, and in response to requests from members, sanctions have been put in place for misuse of Lockbox Keys.

Please see the new RANW MLS sanctions for misuse of your Supra Lockbox Keys. Thank you for your participation in RANW MLS ~ if you have questions after your review, please call RANW MLS at 920.739.9108.
Membership
RANW Membership Changes
To view all the current membership changes for RANW click here.
Congratulations on Your Retirement!
RANW congratulates the following REALTOR® and Affiliate members on their recent retirement:
~ Heather Altman, RE/MAX 24/7 Real Esatate, Appleton
~ James Leland, Coldwell Banker Real Estate Group - Lynndale, Appleton

DSPS Real Estate License Renewal Deadline ~ Sunday, December 14th

The Wisconsin Department of Safety & Professional Services (DSPS) license renewal deadline is fast approaching!

Renewal Notification
The DSPS will notify licensees through email, so it is important to make sure your contact information is up-to-date with the DSPS. The license renewal will open up approximately six weeks before the due date, so around early November. The DSPS will send out a courtesy reminder email at that time. After the renewal has begun, licensees will be able to log in and renew their real estate sales or brokers licenses at the following link: User Log-in
If you do not know your PIN, please use the link below: Pin Look-up

License Renewal & CE Upload
The DSPS requires the completion of four mandatory and two elective CE courses to renew your real estate license by 12-14-20.
When licensees renew online they will be asked to confirm course title, school/sponsor, course dates and CE hours. For more information on how to check at www.wra.org for classes you've taken, click here and enter your myWRA login and password.
BUSINESS RESOURCES
Putting Members First With the Right Tools, Right Now

NAR is taking steps to support members through these uncertain times. The Right Tools, Right Now initiative, which was activated once before in 2009, makes new and existing NAR products and services available for FREE or at significant discounts - right now - and is available to REALTORS® and REALTOR® Associations.

New! Free 3 month trial of DocuSign! Sign up HERE by October 31st!
WRA Offers "Thursday Takeaways" Free Video Series

Take a Quick Break for Quick Insight
Have you checked out the Thursday Takeaways video series yet? The WRA's newest online training series is your weekly guide to learn what's relevant in the industry and cutting-edge for your business. Plus, the video series is free with your WRA membership! Episode topics The series has episodes already available, covering topics like:
~ WB-11 changes
~ REALTOR® professionalism
~ MLS policies
~ Cybersecurity
~ Protected buyers
~ REALTOR® diversity
~ Designations and training
~ And many more Access the Program here
COVID-19 Resources for REALTORS

WRA & State of Wisconsin
WI Statewide Mandate for Face Coverings Extended Eff Sept 22nd (new)
WRA Coronavirus Resources & Legal Issues
WRA Legal Talks Video Series
WRA Article on Federal Cares Act WREM 5.20
WRA Revised Forms CVSI, Addendum CV, CVCA

NAR & Federal
CDC Guidelines for Reopening Businesses 5.20
NAR Resource Page for COVID-19 including Reopen Guides for Workplace & Properties
NAR Coronavirus General Guide for REALTORS
NAR Guide for Fair Housing Compliance during COVID
Families First Coronavirus Response Act
Small Business Administration Resource Guide

NAR COVID-19 Hotline: 800-874-6500 (new)
Appraiser
Virtual Appraisal CE Quickly Approaching
Mark your calendar for October 5-6 training
REGISTER TODAY!

Better Safe Than Sorry
October 5, 2020 8:30 a.m. - 4:30 p.m.
In past years, the appraisal industry has come under scrutiny. The financial crisis of 2008 and the housing-bubble burst led to industry changes and reforms, including the Home Valuation Code of Conduct (HVCC), the Dodd-Frank Wall Street Reform and Consumer Protection Act, and the Uniform Appraisal Dataset (UAD). How did these changes affect appraisers, reviewers and the industry as a whole? Were they welcome? Were they effective? The "Better Safe Than Sorry" course explores those questions and delves into the role of the reviewer, the obligations of the appraiser, relevant USPAP regulations, common errors appraisers can avoid, and the importance of structured report writing.

Performing USPAP-compliant Appraisal Reviews
October 6, 2020 8:30 a.m. - 4:30 p.m.
This course is designed for appraisers who are considering entering the practice of appraisal review as well as those who are actively performing review work. Throughout the course, discussion emphasizes best practices for a reviewer when developing opinions and conclusions regarding the quality of another appraiser's work.

Couse details
Location: Virtual course via the Zoom platform. Students must use a device with a camera and microphone to participate in these courses.
Instructor: Joshua Walitt
Credit: Course approved for Wisconsin appraisal CE credit
Price per course: $125 (WRA appraiser section member pricing)
Commercial
NCREA Schedule of CRE Courses
The NCREA is happy to continue offering a Free 5 Part Commercial Real Estate Series for the month of September through October. This series will be covering the following topics for Residential & Commercial Agents interested in upgrading their services to their commercial investors:
1. Investor Language – appointment setting scripts, Common CRE terminology, Deal Analysis, Prospecting overview
2. Commercial Math – Analyzing the buyers side of the deal
3. Commercial Listings – working with sellers during and after Covid
4. Commercial Proposals – Virtual and live commercial listing proposals demonstration, safety processes to add to your virtual presentation
5. Advanced Commercial Prospecting – Advanced techniques to help increase trust, demonstrate knowledge of the Market, and exploring different approaches to different CRE Product types .
Register HERE for the Free 5 Part Series
RPR: What's Next for Commercial Real Estate
With many businesses shutting down and workplaces realizing that their employees can easily work from home, it seems that commercial real estate will most likely look quite a bit different moving forward. Even with these not-so-hopeful indicators, there are some silver linings and positive signs on the horizon. Read the Q&A with expert Deena Zimmerman.
NAR Commercial Conference Save the Date!
Save the Date for the Fall 2021 Commercial Conference C5 Summit!
September 27-29, 2021 in New York

Who should attend and exhibit?
Commercial industry influencers and industry partners including commercial brokers, state and local associations, economic development organizations, government officials, NAR Global members, along with domestic and international investors.
Why attend?
· Network at the three-day expo featuring NAR's Startup Alley
· Learn about the best markets to invest in and valuable incentives across the United States
· Showcase your properties and investment opportunities
· Engage industry experts
· Get deals done on-site to expand your portfolio and boost your bottom line
Conference Rates
· Early Bird Rate: Register by June 30, 2021 to receive the $995 Early Bird rate. Rate will increase to $1295 for standard registration July 1, 2021.
· Hotel Room Rates: Start at $389/night.
New York Marriot Marquis in Times Square 1535 Broadway, New York City