Top Stories
DSPS Real Estate License Renewal Deadline ~ Wednesday, December 14th
LIVE Residential CE Coming this November!
November is REALTOR Designation Awareness Month
Introducing, NAR NXT, The REALTOR Experience! Nov 11-13th, Orlando, FL
Thank You to All RANW Neighborhood Outreach Volunteers & Sponsors!
RANW MLS Rules & Regulations Updated
New Wisconsin Commercial Information Exchange (WCIE)
Scroll down for additional stories-
REALTOR NEWS
RANW Membership Renewal Time ~ Renew by Nov 15th!
The annual membership renewal dues statements were sent out in early October. The easiest way to pay is online at ranw.org. The red dues button links to a online member portal, but the process is the same: just use your member ID or NRDS number and follow the steps.

The discounted dues deadline is Wednesday, November 15th. Thank you for your membership!
Congratulations to our 2022 RANW Jim Smith Excellence in Professionalism Award Winners!
The Excellence in Professionalism Award recognizes overall service to the REALTORS® Association of Northeast Wisconsin. The recipients of this award exemplify high principles of professionalism and promote the Code of Ethics and other industry-specific standards of practice. Congratulations to this year's winners!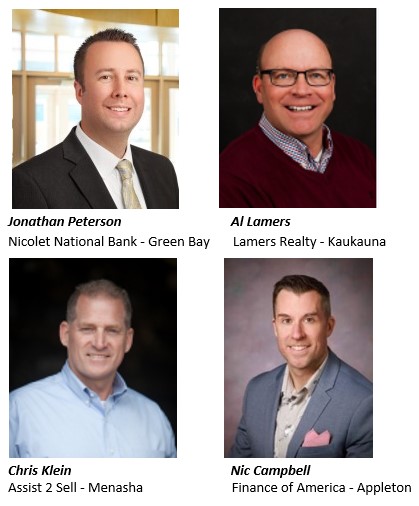 Real Estate Continuing Education Common Questions
Find out answers to the most common CE renewal questions in the link below from WRA. The 2022 renewal video will be available soon. Click here to view the list of questions/answers.
DSPS Real Estate License Renewal Deadline ~ Wednesday, December 14th
The Wisconsin Department of Safety & Professional Services (DSPS) license renewal deadline is approaching! View commonly asked questions about real estate continuing education HERE.

Renewal Notification
The DSPS will notify licensees through email, so it is important to make sure your contact information is up-to-date with the DSPS. DSPS license renewal portal opened 10/26/2022. The DSPS will send out a courtesy reminder email at that time. After the renewal has begun, licensees will be able to log in and renew their real estate sales or brokers licenses at the following link: User Log-in
If you do not know your PIN, please use the link below: Pin Look-up

License Renewal & CE Upload
The DSPS requires the completion of four mandatory and two elective CE courses to renew your real estate license by 12-14-2022.
When licensees renew online they will be asked to confirm course title, school/sponsor, course dates and CE hours. For more information on how to check at www.wra.org for classes you've taken, click here and enter your myWRA login and password.
Education
LIVE Residential CE in Session!
If you still need to register for courses 3 - 6 for continuing education, please call 920-739-9108 to check for availability.

$27 per course for members and $40 per course for non-members. See Registration form for Course titles, class times, and instructors.

Tuesday, November 1 - Courses 1 & 2
Tuesday, November 8 - Courses 3 & 4
Tuesday, November 15 - Courses 5 & 6
Sponsored by First American Title Insurance Company/Evans Title Division. Map HERE. The Department of Safety and Professional Services requires continuing education credits be entered into their system by December 14, 2022.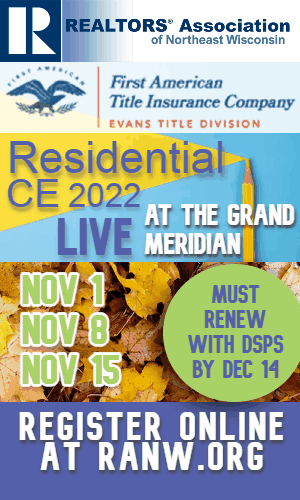 November is REALTOR Designation Awareness Month

REALTOR® Designation Awareness Month is recognized annually in the month of November. The National Association of REALTORS® encourages members to increase their professionalism, marketability, proficiency, and income through pursuance of an officially endorsed NAR designation or certification.

Residential Designations -here are just a few:
~ CPM
~ CRB
~ CRS
~ Green
~ SRES

There is an official NAR designation for practically every specialty area in the real estate industry. Designations and certifications are awarded by each affiliated group upon completion of required courses. Click here for a complete list of designations.
WRA "Professional Pointers"
The Professional Pointers series offers you a boost of professionalism. The pointers explore topics like the ethical duties to cooperate, confidentiality, managing expectations and more. Each week, you'll find a pointer to enhance professionalism and success in your practice.

Most recent pointers include:
October 24: Promoting the Interests of Clients: Obligation for Honesty
October 10: Writing Inclusive Property Descriptions
September 26: Article 16 - Respecting Exclusive Relationships Click here to access the entire series today!
Events
Register now for the RANW Green Bay Holiday Party, December 8th!

Time to Jingle and Mingle! This year we will be getting together at The Terrace Suites - located within historic Lambeau Field! Party starts at 5pm and goes to 10pm - prizes will be drawn at 7:30, you must be registered to be eligible to win.

Register by December 1st: Register Here

Map and parking information coming soon, please enter at the Invisalign Gate located on the South end of the stadium.

Admission is free with an unwrapped gift for Toys for Tots or canned good donation for Paul's Pantry.

Reach out to Jessica with any questions:
juecker@ranw.org
920-739-9108
Women's Council of Realtors - 2022 Top Producer Panel

November 17th at Wilder's Cutting Edge Bistro in Appleton, join the Women's Council of Realtors for their last 2022 lunch event and a special presentation by top producing agents in the Fox Valley and surrounding markets!
Lunch is included with your ticket.
Arrival and Networking: 11:30-12:00
Lunch ordered: 12:00-12:30
Panel Discussion: 12:30-1:30
Tickets Available HERE!
Save The Date!

Fond Du Lac Area Holiday Party will be January 19, 2023.If you are interested in sponsoring the event, please reach out by 11/30/2022. Sponsorthe party! Information on registering to attend will be announced soon! Theparty will be at Avenue 795 (formerly the KC Hall)
5:30PM -6:30 Social Hour- Hor d'oeuvres/Drinks
6:30PM-10:00 PM Live Band – Five Card Stud
Introducing, NAR NXT, The REALTOR Experience! Nov 11-13th, Orlando, FL

NAR's flagship event, REALTORS® Conference & Expo, has been reimagined, retooled, and reinvented to better meet your needs, bring more value, and exceed expectations.

Join us at the all-new NAR NXT, The REALTOR® Experience, to explore what's new and what's NXT, as you exchange ideas and info, experiment with cutting-edge innovations, and get insights from top experts. It's a can't miss experience designed to help you expand your mind, business, and dreams and put you on a path to exponential growth! Click here for registration information.
Thank You to All RANW Neighborhood Outreach Volunteers!

Thank you to all the volunteers for RANW's 14th Annual Neighborhood Outreach Day! A total of 195 members were able to help 41 elderly and disabled homeowners through Northeast Wisconsin!! Click here for pictures!



Government Affairs
Fox Cities Housing Report and Forum
On September 26, 2022 the Fox Cities Housing Taskforce held a forum open to the public to present their final regional housing strategy report. Those involved on the taskforce included a wide variety of stakeholders including Outagamie County, local government planners, Habitat for Humanity, low-income housing providers, representatives of the development, building and real estate industry, the Community Foundation, and the United Way.

The report was designed to:
Include a series of recommendations, which maybe used as a decision-making tool to guide future investments in housing and housing programs.
Give policy makers, planners, and housing providers the opportunity to synch up their work, find administrative and regulatory efficiencies, and establish better solutions to or modern-day challenges.
Catalyze intergovernmental and public-private collaboration so that our region may intentionally create a healthier housing system.
The forum was held at the Fox Valley Technical College which was able to record the presentations and can be found here: https://youtu.be/D_TO1j3ZOKs. We were able to hold the forum in large part from a NAR grant, as well as sponsorships from BLC Bank, Associated Bank and Fox Cities Economic Development Professionals. If you have any questions, please contact the RANW Government Affairs Director - Jennifer Sunstrom at jsunstrom@ranw.orgor 920.739.9108.
No Time to Waste! Get in your Direct Giver Contributions!
We are in the final stretch of RANW's Direct Giver Fundraising period, and we are just one month out from the 2022 November elections. Given the enormous issues the real estate industry is facing, we need your support now more than ever, so please send in your Direct Giver checks today. The WRA Direct Giver Program provides an alternative to an RPAC contribution for members who:
- wish to retain full control and direction over who will receive their political contributions.
- wish to give personal contributions to candidates for local and state elections and at the same time benefit the REALTORS® Association.
Direct Giver Process
1. Solicitations: The minimum contribution is $100.00.
2. Checks: Checks can be used and must be made to the WRA Direct Giver Program (not RPAC). Checks can be sent to RANW, W6124 Aerotech Dr., Appleton, WI 54914.
3. Credit Cards: You may also pay on-line via credit card. Click here and login to the WRA site. Or you can call Jennifer at 920.739.9108 with your credit card information and she will take care of it.
4. Control: Contributions to the Direct Giver Program are deposited in a separate bank account from RPAC contributions. Structurally, the WRA then acts like a bank, with disbursements permitted only with the explicit authorization of the contributor. That is, you retain full control on how your direct giver money is spent.
5. Directing Contributions: Contributors may at any time direct their contributions, in whole or in part, to any candidate for local, state or federal office. When disbursing funds, contributors can email or call RANW or WRA to indicate how they wish their money to be distributed.

MLS
NEW! Auto-Fill Branding for Comparables Reports in CRS Data's MLS Tax Suite!

When creating CMA's in MLS Tax Suite, the branding image and contact information that is saved in a user's Settings will now automatically appear when a new Comparables Report is created. Users are still able to modify or remove branding and contact info from a Comparables Report. The Reset Branding option allows users to reset an existing Comparables Report with the branding image and information saved in their Settings section. Check out the latest CRS Data BLOG for more helpful tips and tools.
Sharing Another Agent's Listing in a Social Media Posting

Is it OK to share another agent's social media posting featuring their listing to my own page? Example: Joe Doe sees a social media posting about a listing from another company. Joe decides to share the post to his Facebook page and writes "If you like this listing, I can help you set up a showing". Is this against RANW MLS Rules?

SECTION 19. USE OF MLS INFORMATION-INTERNET AND ADVERTISING

Electronic Earnest Money for the REALTORS Association of Northeast Wisconsin

TrustFunds is a core service provided by RANW MLS. As an agent, you can start using TrustFunds today! Access to TrustFunds is right within your MLS. The companies listed below are currently registered to accept TrustFunds electronic earnest money. Don't see a company you use? Complete our Interest Form and we'll reach out.

Acre Realty Trust
Attorneys Title & Closing Services, LLC
Beiser Realty, LLC
Berkshire Hathaway HS Bay Area Realty
Berkshire Hathaway HS Fox Cities Realty
CENTURY 21 Ace Realty
Century 21 Affiliated
Coldwell Banker Real Estate Group
Coldwell Banker Realty
Creative Results
EXIT Elite Realty
EXP Realty - WI
Expert Real Estate Partners, LLC
First American Title Insurance Company
First Weber
First Weber Realtors Oshkosh
Frontier Title and Closing Services, LLC
Gowey Title
Homestead Title Company, LLC
Keller Williams - Green Bay
Keller Williams Fox Cities
Land Title Services, Inc.
Landro Fox Cities Realty, LLC
Legends Title Services, LLC
Mark D Olejniczak Realty, Inc.
Merit Title, LLC
Nine Twenty Realty, LLC
O'Connor Realty Group
Perfect Title
Prism Title
Proactive Title Solutions, LLC
RE/MAX Heritage
RE/MAX Port Cities
Realty One Group Haven
REI Title LLC
Think Hallmark Real Estate
TM Title Services, Inc.
Travelers Title, LLC
Wisconsin Title, Closing & Credit Services
RANW MLS Rules & Regulations Updated
The RANW MLS Rules have been updated. You can click HERE to view the most recent local changes.

~Page 8, Section 4.D Listing History - NAR Participant Rights
MLS will, upon request, provide documentation such as listing documents or listing audit report to Participant.
~Page 35, Section 19.2B Data License Agreement and Data Provider
Third-party data provider may be used to facilitate data access and may request additional documentation.
~Page 36, Section 19.5 RANW MLS Data Feeds and Syndication
A test site and credentials to approve site prior to release of credentials to MLS Participant and Vendor will be required.
~Page 37, Section 19.5.A & B Requirements of Data Fields for IDX and VOWS and Display Restrictions
Confidential data fields NOT for public display.
~Page 38, Section 20 Internet Data Exchange (IDX)
Reference Section 19.5.
~Page 41, Section 21 Virtual Office Website (VOW)
Reference Section 19.5.
~Page 56, Section 29 Definitions, Rule Guidelines, and Clarifications
Removed Variable Rate Commission from Other Confidential Fields list.

Please contact khubers@ranw.org with any questions or for assistance. Thank you for your membership and ongoing support of RANW MLS.
RANW MLS Resources A-Z
Visit the RANW MLS Resources page for all MLS content A-Z! Looking for forms to submit a listing? Can't find a late listing form? Need tax info from a tax municipality? Searching for school district codes? It's ALL HERE!
RANW MLS Stats at a Glance
Click HERE for the Monthly Market Activity Report, generated on October 24, 2022 for all property types, counties, and municipality for RANW MLS.
Need more info? Want to customize your own reports?
Click HERE for the How-To! OR try one of the Paragon statistical tools under the Resources tab in Paragon!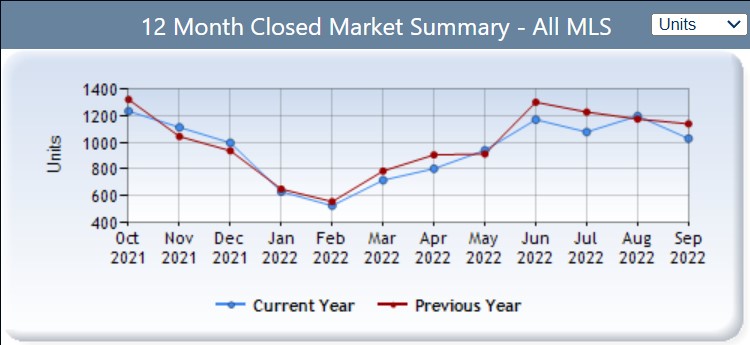 RANW MLS
Training Opportunities
RANW MLS Webinars
Click on the training calendar/link for each vendor to register for free daily or on demand webinars!

Homesnap Training Calendar
Visit the Homesnap Training Calendar for this month's webinars! https://blog.homesnap.com/train-with-jessica/upcoming-live-training/
Lockbox Program
Welcome to the Lockbox Program
#4216
#1568
#2186
#3069
#2527
#2529
Redfin Corporation
Residential Valuations, Inc
Real Estate Shoppe
CMcP Realty, LLC
Chudnow Druck Valuation, Inc.
Mississippi Valley Real Estate
REALTOR® MLS
REALTOR® MLS
REALTOR® MLS
REALTOR® MLS
REALTOR® MLS
REALTOR® MLS

Madison
De Pere
Kimberly
Oshkosh
Appleton
Plum City
How to Assign a Lockbox to a Listing

Check out Supra's informational video on how to assign a lockbox to a listing! Can't see the video? View it HERE!
November Supra Training

Supra eKEY Basic Training: The Supra eKEY Basic app turns your smartphone into a lockbox key and brings a set of useful tools to your business. Next live trainings are Tues., Nov. 8 & Thurs., Nov. 10 from 10:30am-11:30am Central Time. REGISTER HERE

SupraWEB Training: Learn what SupraWEB can do for you to help with your business! Track inventory of lockboxes, assign lockboxes to listing, provide 1-day code for out of are agents and more! Next live training is Wed., Nov. 16 from 10:30am-11:30 am Central Time. REGISTER HERE
Daylight Savings Time Ends
Sunday, November 6, 2022 at 2:00 am clocks are turned backward 1 hour local standard time.
*Please make note if your lockboxes are set up for timed access.
Membership
RANW Membership Changes
To view all the current membership changes for RANW click here.
Sincere Condolences
RANW would like to extend its sincerest condolences to the family, friends, and co-workers of:
~ Sue Hietpas, in the recent passing of her husband. Sue is a REALTOR® and Manager with Beiser Realty, LLC in Waupaca.
Congratulations on Your Retirement!
RANW congratulates the following REALTOR® member on their recent retirement:
~ Helene Alford, Mark D Olejniczak Realty, Green Bay
~ Susie Hazaert, Homewire Realty Fox Cities, Wauwautosa
~ Marion Kasper, Kasper Realty, LLC, Brillion
~ Jane Moschel, Kasper Realty, LLC, Brillion
~ Kim Stratton-Block, Central Wisconsin Appraisal of Waupaca, Weyauwega
Commercial
New Wisconsin Commercial Information Exchange (WCIE)

Attend a free online training webinar on how to get the most out of Catylist Research. Taught by a live instructor, every Thursday at 12 pm CST. Click "Get Online Training" to register.

RANW's Catylist platform from Moody's Analytics is all new. The WCIE website ciewisconsin.com has updated extensive data and property analytics, and new technology features listed below. For members of WCIE, listings will also be sent automatically to Catylist's national public site, CX Commercial Exchange, and to RPR. This is a great, inexpensive, commercial (only) service for anyone who lists or sells commercial property. Interested in joining the Wisconsin Commercial Information Exchange? Contact cdreger@ranw.org!

Why join WCIE?

Enter listings once, automatically market to websites across the nation.
Rely on data that is broker-driven, timely, and accurate.
Prepare comprehensive, consistent marketing materials and reports.
Retain ownership of your data and control who has access.
Be a part of a true Commercial Listing Service with broker-to-broker compensation and enhanced cooperation among Participants.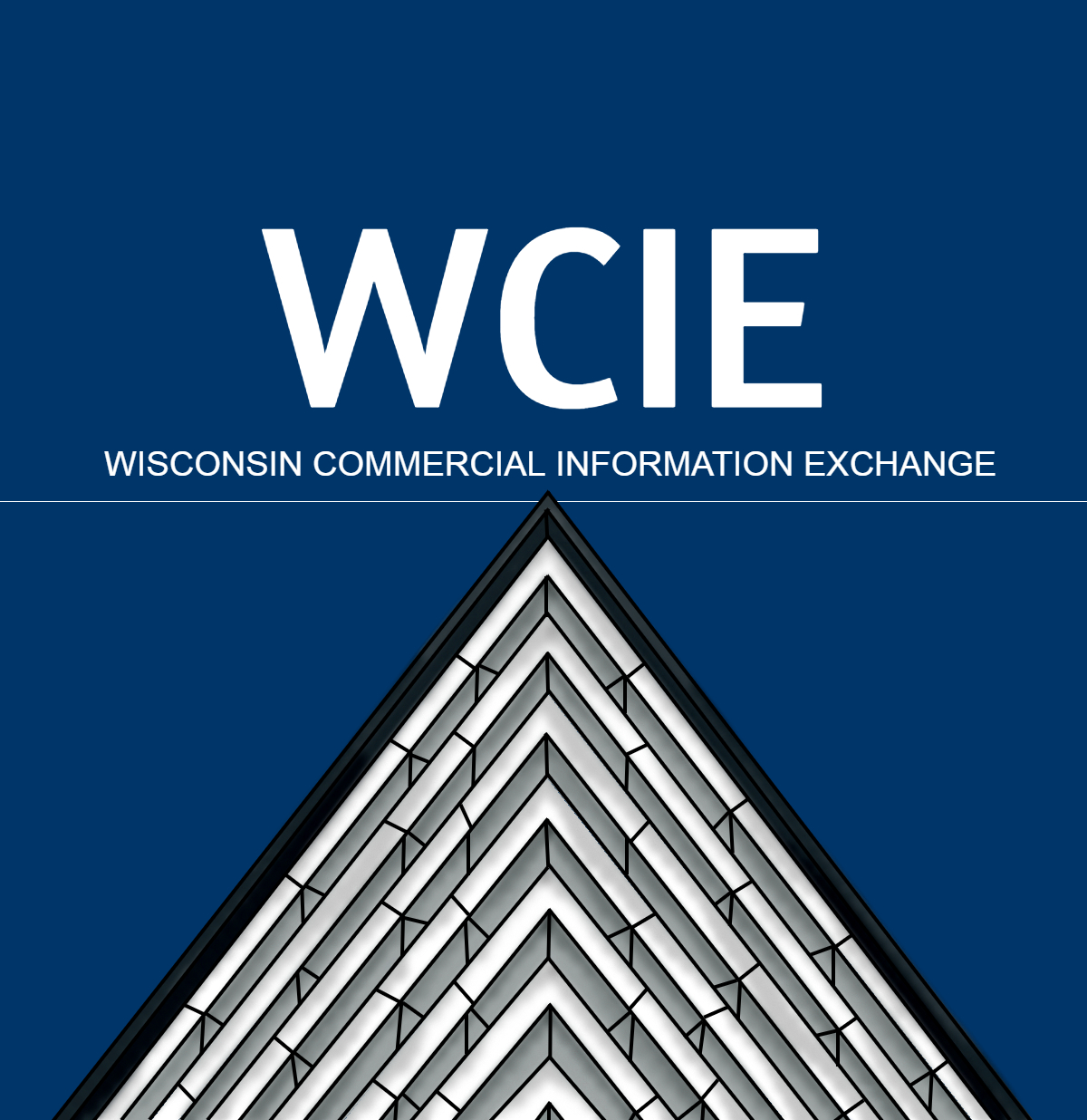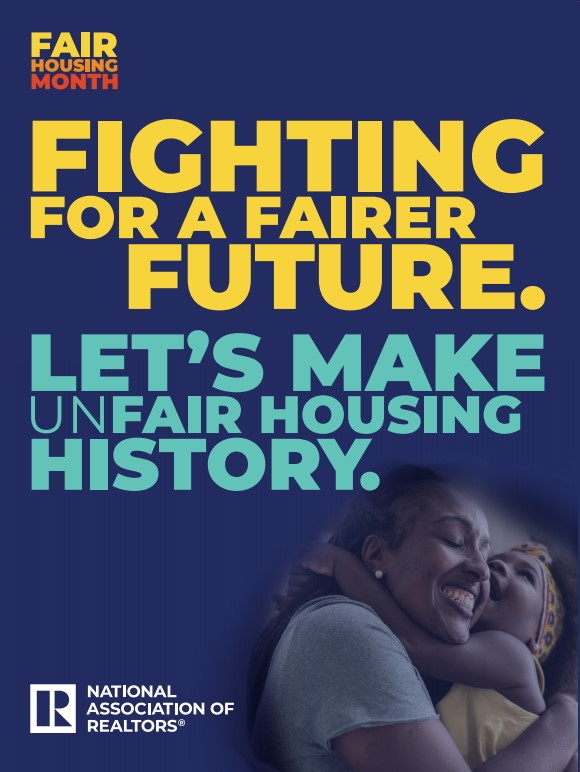 Events At a Squint
April
REALTOR® Emeritus Deadline
RANW Closes at Noon for Holiday
Pricing Strategy course
REALTOR® Broker Summit
REALTOR® Broker Summit
REALTOR® & Government Day
03
07
13
17
18
26


May

NAR Legislative Meetings
RANW Closed for Holiday
RETS Data Feeds to Sunset
06
29
31

June

RANW Timber Rattler Fundraiser

22

2023 RANW & MLS
Boards of Directors
RANW & MLS Executive Committee
President
Michael Sewell
President-Elect
Diane Campshure
Secretary/Treasurer
Pat Kaster
Past-President
Judd Stevenson
RANW Directors
Andy Beiser
Jenelle Bruno
Jill Dickson-Kesler
Michael Kunesh
Ben Lyons
K.C. Maurer
MLS Directors
Tyler Jedwabny
Mike Karisny
Michael Kunesh
Lori Muller
Joy Pouwels
Brittany Voigt
Executive VP
Paula Hall